What COVID-19 teaches us about the Right to the City of street vendors?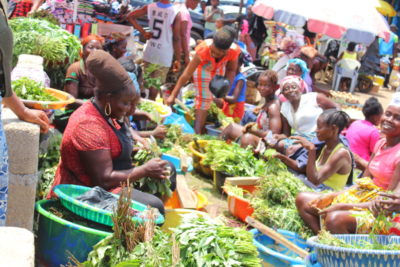 October 31, officially known as UN World
Cities Day, has been re-interpreted by activist across
the globe as the World Day for the Right to the City. To mark that important
date, the Global Platform for the Right to
the City (GPR2C) and its members have developed a
series of initiatives and campaigns, known as the Urban October, culminating in October 31. UN Habitat will be also
hosting the Global Observance on that date in celebration of World Cities Day,
with the sub-theme Valuing our
communities and cities.
StreetNet International is one of the members of the GPR2C and this Urban October, we want to highlight the importance of street vendors as crucial elements for vibrant, democratic, and inclusive cities. We also echo the demands of UN Habitat and ask for more participatory urban governance which values street vendors and other informal traders as integral for sustainable urban development.
What is the Right to the
City?
According to the GPR2C, the Right to the City is:
"…the right of all inhabitants, present and future, permanent and
temporary, to inhabit, use, occupy, produce, govern and enjoy just, inclusive,
safe and sustainable cities, villages and human settlements, defined as commons
essential to a full and decent life."
The Right to the City is a concept that understands cities as living
social, political, and economic entities. At a time when cities all over the
world are being targeted by privatization of public spaces, gentrification and
housing and infrastructure crisis, the Right to the City reminds us that urban
spaces are not exclusively for and by the wealthy, nor do they exist just to
make a profit.
The Right to the City correlates with Sustainable Development Goal 11: Sustainable cities and
communities and the New Urban Agenda, key
documents that enshrine international commitments to develop democratic,
diverse, sustainable and inclusive cities for all.
What does it have to do with street vendors and other informal traders?
As urban expansion exacerbates across the world with the growth of new
cities and megacities, citizen's rights and livelihoods are often trampled upon
by new regulations, urban planning, and investment. And when cities are under
siege by profit and commodification, street vendors are one of the most
affected groups.
A WIEGO analysis across four continents
found how policies to "clean up" the cities implied the destruction of street
vendors' livelihoods. Repressive legislation that ignores the crucial role of
the informal economy leads to evictions, demolitions, violence, and oppression.
Street vendors and hawkers are routinely expelled from city centers and other
public spaces, threating their livelihoods and survival.
Some countries have already understood the crucial role of street vendors and hawkers regarding the sustainability and democratization of urban spaces. These countries and cities have invested joint management of public markets and in policies designed to support informal traders' transition to the formal economy. These good practices must become mainstream and ensure street vendors, hawkers and other informal traders are agents for development and change in urban spaces.
We should note that women are overrepresented in the informal economy in developing countries,
and any policies designed to exclude informal traders from public spaces will
have a disproportionate impact in terms of gender, especially when we consider
many women are the sole providers of their family units. Furthermore, whenever
regulations penalize informal economy workers, women are exposed to all forms
of gender-based violence, especially sexual harassment, and exploitation.
It is important to remember that women also have a Right to the City,
and urban policies must tackle the persistent inequalities between women and
men.
What did COVID-19 teach
us about the Right to the City of street vendors?
The global pandemic has been devastating for informal traders.
Evictions, demolitions, and violence intensified as street vendors were faced
with an impossible choice: either respect the restrictive lockdowns and risk
starvation or go to work and risk contamination and police brutality.
However, many affiliates of StreetNet International were also able to seize this moment to demonstrate how street vendors, hawkers and other informal traders can be agents of public health and support authorities in managing a critical situation.
From joint space management of markets, to monitoring of health
regulations, or providing key inputs to national post-COVID-19 economic
recovery plans, StreetNet International and affiliates have
proven time and time again how informal traders are not an obstacle to
development of healthy, democratic and sustainable cities, but rather
catalyzers of change.
The solidarity and cooperation of street vendors and other informal
traders is also a valuable lesson in how mobilizing informal economy workers to
have a united voice can influence public policies. From crowdfunding campaigns,
to pilot income-generating projects, to vigorous advocacy and lobbying actions,
organizations of street vendors, hawkers and cross-border traders are ensuring
no one will be left behind.
What are the
international priorities for the sustainable development of cities in 2020?
UN Habitat has laid out the key ways in which we can value our communities and cities in
2020:
– Economic value: The UN urges States to consider community
organizations and informal economy workers in urban governance and planning.
Cities must invest in assisting the transition from the informal to the formal
economy in a way compatible with human rights and social protection.
– Social value: Community engagement is key to innovative
and inclusive cities. Urban communities must be involved in the planning and
policymaking of cities, and that includes organized groups of street vendors
and other informal traders.
– Environmental value: Environmental degradation disproportionately
affects poor urban communities. Cities cannot be environmentally sustainable
until these communities are integrated in participatory urban governance and
their voices are heard.
– Innovation value: Flexible and dynamic cities have responded
successfully to the pandemic by investing in new ideas and systems. Cities
should invest in being welcoming and encouraging to innovators and become
fertile grounds for new solutions to persistent challenges.
UN Habitat clearly summarizes policy recommendations to integrate these priorities: "Going forward managers, decision makers and stakeholders, should include communities to co-create a different type of city, one where communities can contribute with their skills, knowledge and local assets which can increase cities' capacities to address climate change, potential pandemics and the ongoing long-standing urban challenges."
How can I learn more
about this topic and join you in defending the Right to The City?
You can follow the campaigns and agenda of the GPR2C to discover ways to be involved, including joining the platform.
To know more about the Right to the City and street vendors, hawkers,
and other informal traders, you can check out these resources:
– Working in public space: A manual for street vendors
(WIEGO and Cities Alliance)
– Where are the inclusive cities? Street vendors globally face
increasing hostility (WIEGO)
– Street Vendors and the Right to the City
(Gaspar Garcia Center for Human Rights)
– What Does
"the Right to the City" Mean to a Street Vendor in Lima?
(Next City)
–
Right to the City: Mobility, health, safety, work and culture
for all (UNICAB) [In Portuguese]
Type of article

Categories
Campaign