Why invest in online workers' education?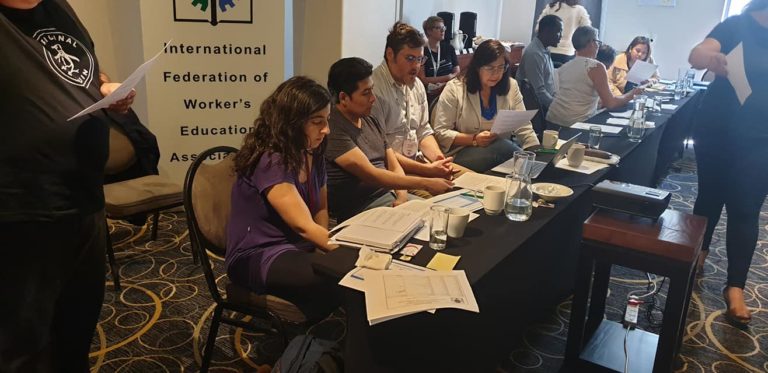 Education has always been one of the pillars of StreetNet's action. Although nothing can quite replace face-to-face interaction, the current pandemic is forcing many organizations to move their training programs online.
In the case of StreetNet, online workers'
education was always on the horizon. As a global alliance of informal traders
represented in 56 countries, there are many barriers to being able to reach all
our affiliates in person. Therefore, the potential of online learning tools was
always to be seized upon.
But what are the specific benefits of online workers'
education? And how can StreetNet seize these benefits to strengthen affiliate
organizations? We
talked with several members of StreetNet's team and members who are working on
this topic to explain us the important of an online education strategy to build
capacity and make actions on the ground more effective.
We also talked with Renaldi Prinsloo, Educator & Online Curriculum Developer of the International Federation of Workers' Education Associations (IFWEA), who has been collaborating with StreetNet to assist the team in developing online courses through IFWEA's Online Labour Academy (OLA). StreetNet is also a member of IFWEA Executive Committee.
StreetNet strategy for education
Education is, as always, a priority for
StreetNet, especially for the implementation of the organziation's Strategic
Plan. Oksana Abboud, International Coordinator, explains why this is still such
an important part our work: "Through education and capacity building, our
members develop strategic thinking and acquire new skills and knowledge which
make them more powerful, resilient, confident and influential in dealing with
their counterparts, if we are talking about negotiation processes, in
decision-making processes and building collective actions to exercise their
rights and interests, fighting for recognition and inclusiveness."
StreetNet International currently has three
main priorities concerning workers' education. According to Annie Diouf,
StreetNet's Treasurer and member of the Sub-Committee on Workers' Education,
the priorities are:
To train specialized educators about workers'
education for StreetNet members.
The creation of education curriculum according
to sustainable development goals.
Providing tools for delivering education and
also for the evaluation of trainings and their impact.
Annie
highlights the importance of workers education for informal economy workers.
"It allows them to be up to date with the evolution of the world of work, to
know about their rights and duties towards the government and themselves, to
understand the fundamental norms of work like international conventions and ILO
recommendations, and it also makes it easier for informal economy workers to
approach state and local authorities." She says "Workers' education must serve
them to participate in the construction of society and to access decent and
sustainable work which will improve their living conditions with dignity."
Sibailly Douhore, a long-term collaborator of
StreetNet who is currently working as an Education Consultant, has many
experiences of experience providing trainings to informal economy workers.
According to Sibailly, workers' education is like adult education in the sense
that in requires active and participatory methods that acknowledge the value of
their life experiences.
Being aware of the unique vulnerabilities and
potential of street vendors and other informal traders is crucial. Negotiation
skills for informal economy workers are very different from those employed by
formal trade unions because it is not about the relation between employer and
employee, but rather between vendors and authorities. Plus, it is important
cater the course to the participants needs and availability.
As Sibailly explains, "Vendors work for
themselves. When they attend training, they lose days of sales and therefore
lose income." Therefore, its even more important to ensure these courses will
have an effect on the ground and a direct impact on the ability of vendors to
improve their lives. Sibailly adds that, although many vendors are now
recognized as workers, there is still no mechanism to support the training of
informal economy workers.
When the COVID-19 pandemic emerged, StreetNet's
staff was already used to working online with a virtual team. However, it soon
became evident that other parts of StreetNet's work would have to be
re-adjusted, especially education. Oksana explains "we realized that we have to
focus on online education, re-designing our existing educational courses or creating
new online courses, useful materials, resources and curricula to fit a virtual
training nature."
Partnership for education of all workers: StreetNet & IFWEA
StreetNet and IFWEA have been collaborating for
several years, but COVID-19 further strengthened the partnership of our
organizations. Currently, Maíra Vannuchi, StreetNet organizer for the Americas
region, sits on IFWEA's Executive Committee board. She reiterated StreetNet's
commitment to capacity-building as an essential step for workers' rights: "We
believe workers' education is a foundation of grassroots and organizing work
for informal economy workers and we have strived to ameliorate our tools to
reach more workers and expand our international struggle for the rights of
street vendors and other informal traders".
Sibailly explains why this partnership between
organizations is so important for StreetNet: "The main idea is to see how all the
affiliated organizations of the informal economy in all parts of the world
could benefit at lower cost from the various trainings, particularly the online
training provided by the Online Labour Academy (OLA).
To understand more about IFWEA's work and the
OLA, we reached out to Renaldi Prinsloo. She is an Educator & Online
Curriculum Developer of IFWEA, which means she mostly guides organizations on
how to design online courses in OLA.
Through her work, she supports IFWEA's mission of building a global
knowledge community. According to Renaldi,
"We facilitate global cooperation between worker educators to advance
education methodologies, knowledge and education practices. Our beneficiaries
are mostly democratic worker organizations that promote some sort of freedom,
justice or equality," she explains. IFWEA runs workshops and study circles, and
it incorporates methodologies of popular education such as plays, concerts,
poetry and different artforms.
Although IFWEA is based in Cape Town (South
Africa), its affiliate organizations exist across the globe. As such, there is
a great variety of workers and educators. This diversity is one of the things
Renaldi appreciates the most about her work, "the wealth of understanding, the
wealth of knowledge and the wealth of experiences that people come with to the
different study circles, meetings and learning platforms".
The unique approach of workers' education
Workers' education differs from other learning
methodologies because it is strongly based on principles of freedom, justice,
equality, solidarity, and inclusion. As Renaldi says, "it starts from valuing
the expertise of each person and acknowledging that everybody has a voice and
that everybody can contribute towards learning from their pasts experiences and
knowledge that they have".
Hence, there are two main aspects that compose
the unique approach of workers' education: knowing how to value where each
participant is at in terms of knowledge and experience, and build on that
within the group; and making sure the education is always participatory. This
means workers' education is not simply about transmitting information, but
rather debating and sharing opinions, lived realities and knowledge.
These values are entrenched in StreetNet's
in-person trainings on negotiation skills. As Sibailly explains "The course
places emphasis on group discussions based
on the experience of participants, market visits to refer to what is happening
in the field, visits to the offices of the Town Hall and the Police or Customs
to become familiar with the negotiation partners, role plays, etc".
StreetNet's experience has demonstrated how
much this kind of education can change workers' lives. " I believe that proper
investment in workers' education at all structural levels is the most effective
way to strengthen and empower workers' organizations to enable them for developing
fitting solutions to any challenges they face in their difficult daily lives",
explains Oksana.
Why workers' organizations should focus on online workers' education
Applying the principles of workers' education
to online learning is often considered difficult. However, Renaldi's experience
with OLA has taught her otherwise.
"Just to give an example", she says "the study
circles that are run online, all of them are participatory. It's an online
environment, but the learning process that takes place is very similar.
Although there are some adjustments (e.g. you cannot divide people in a
physical room, but you can divide groups into different chatrooms). You have to
adjust, but there are ways of making these methods work."
For Renaldi, online workers' education is a way
to "bridge the digital divide". The low cost and flexibility of online
education are added benefits, but it is also important to consider that online
tools will only become more and more important as time goes on, and workers'
organizations should not be left behind. This was made very clear by the
COVID-19 pandemic, which lead to a high demand for IFWEA's courses on online
tools.
As such, it's crucial for workers' organization
to invest in digital skills and for worker educators to learn how to design and
deliver online courses.
"Really, that's where the whole world is
moving, towards digital resources," asserts Renaldi, "And workers organizations
in general are very behind when it comes to technology. Online education will
be a good thing to introduce, because long-term we will go there anywhere, and
the sooner we understand the value and the ways and the methods that could be
used, the quicker we start learning, the better for all of us."
Although online learning methods might seem daunting for educators trained in face-to-face workers' education, the most important thing is to ensure the principles of workers' education are followed. According to Renaldi, "If online education is done in the correct methodology of workers' education, then it creates spaces for workers to learn in a setting that is participatory, and inclusive. So, it's not necessarily the online tool itself that will grow the understanding of workers, but creating a platform online where workers can share and talk about these issues with other people, in the same country or not, that will promote and grow understanding and knowledge, by sharing and learning together."
For Annie,
online workers' education is also a worthy investment for organizations. "It is
very important to invest in online education especially for leaders and
trainers because this can keep StreetNet's from having expenses for training
seminars which have to move members regularly. We also save time and
information is never late." She explains. However, she adds "Online education
can also have drawbacks due to the lack of electronic and logistical devices required
for the popularization of education courses at the grassroots level". Which is
why online education requires not only investing in a good curriculum and
educators, but also in the required technological tools to follow the courses.
Benefits of online workers' education for informal economy workers
Online workers' education is not limited to
formalized trade unions. Actually, it is especially beneficial for informal
economy workers. As Renaldi says, "Informal economy workers and workers'
organization might not have easy access to online platforms currently, but
investing in closing that gap and building that bridge to allow them to access
this other form of education, it will definitely be beneficial for them on
multiple levels".
Aligned with ILO's Recommendation Transition from
the Informal to the Formal Economy Recommendation #204, (2015), organizations of informal
economy workers are concerned with strategies which allow for the formalization
of informal labor in a way consistent with internationally accepted standards
of human rights and social protection.
Renaldi is confident that online workers'
education has a role to play in this transition. It is more accessible and
affordable, and its flexibility is more compatible with the day to day lives of
informal economy workers. Whether the courses focus on negotiation skills or
the daily tasks involved in running a business, online education is always
useful. "From teaching how to do invoices, how to manage their own systems, to
the more advanced learning experiences – this knowledge could all be offered
through online education", she says.
Oksana agrees that improving education
materials to fit a changing world is one of the priorities for organizations of
informal economy workers. "We have to continue building capacity and raise
awareness among our members under any conditions and any circumstances. It is
just an issue of re-adjusting our mind set and investing a bit more in
communication tools but with new technologies available, we just need to take
as much advantage of it, as we can. We should be always on track with so
rapidly changing world dynamic and provide innovative solutions to be useful
and helpful for our members."
StreetNet's journey into online workers' education
During August 2020, StreetNet's team received
training by Renaldi about how to create and develop online courses. This
learning experience will be followed by a pilot course with affiliates of
StreetNet as participants. It is the first step towards developing a
comprehensive curriculum for informal traders. As Renaldi explains, "Our role
as educators is to continue to improve and to think how online workers' education
can be promoted in the StreetNet context. The pilot course we developed with
StreetNet's educators will be a good indicator of where it could go and
possibly the difference online education can make for informal economy
workers".
For Renaldi, StreetNet's decision to invest in
online workers' education is a wise one. She asks, "If we can make it more
accessible and freely available, why not? Why would we want to be behind?" Her
experience has taught her that online workers' education gives workers from
diverse backgrounds the opportunity to strengthen their actions and "enables
them to claim their democratic right and responsibilities to have a social
impact".
StreetNet will continue to invest in making workers' education as accessible and inclusive as possible. As Oksana explains, "We should always remember that education is our real weapon, it is a power which we prioritize and use in StreetNet because it will stay on demand whatever the world turns out to be in the future.
If you are curious about online workers'
education, feel free to sign up for IFWEA's open courses and learn more. IFWEA
is also interested in partnering with other organizations aligned with the
principles of workers' education and grow their global learning community. Follow StreetNet's example and invest in
online workers' education!
Type of article

Categories