Street vendors fight for social protection in Cambodia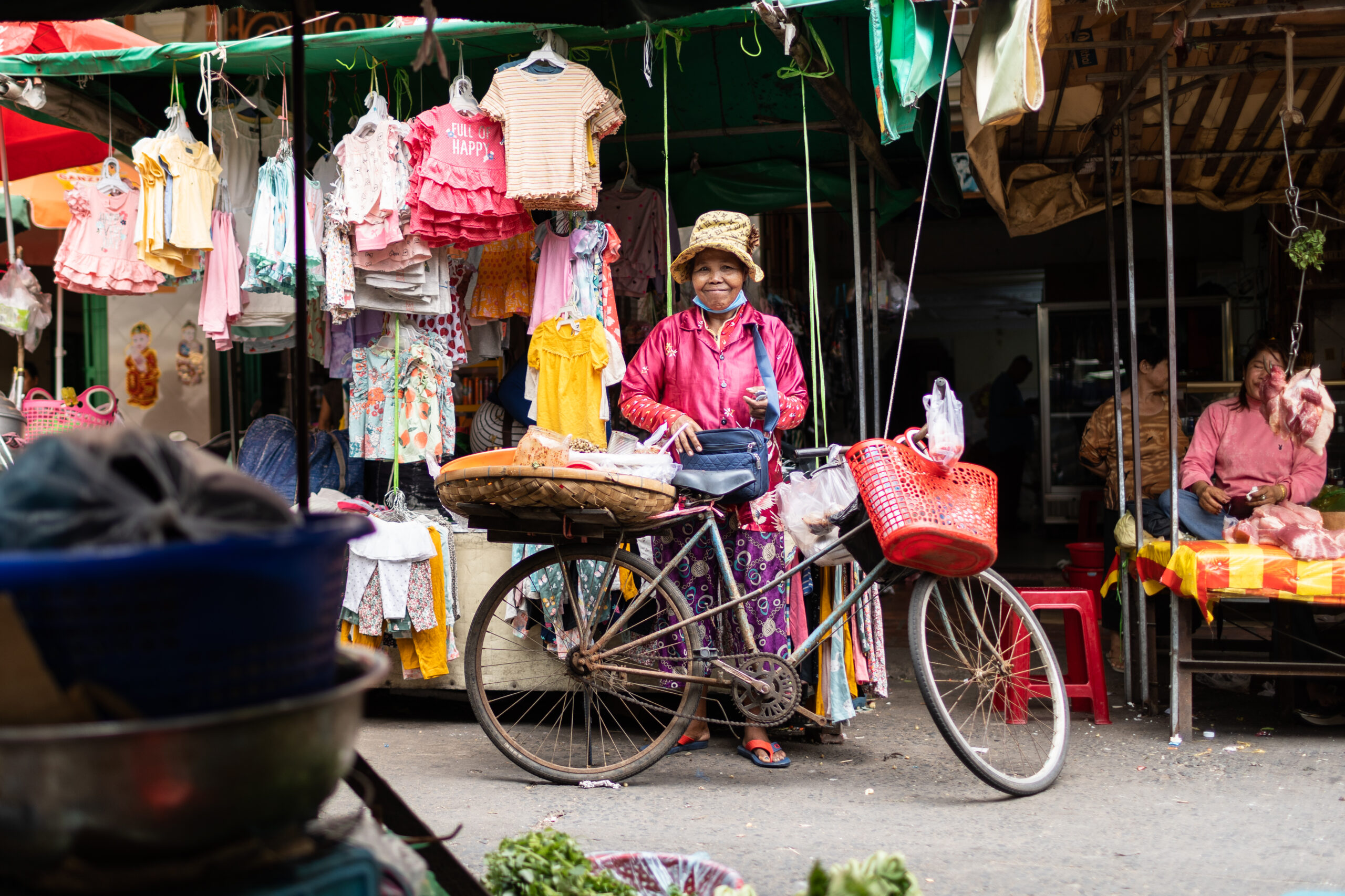 Feature image by Enric Català
We met with Samphous Von, the Deputy Secretary General of IDEA, (Independent Democracy of Informal Economy Association) StreetNet's affiliate in Cambodia, to talk about the challenges of street vendors in the country, especially with regards to social protection. 
IDEA is an established trade union in Cambodia (18 years old this year), representing over 10.000 informal economy workers, 2000 of whom are street vendors. Samphous Von is the Deputy Secretary General, a young woman leader committed to improving the lives of the people she represents.
Social protection in Cambodia
IDEA is pushing for the extension of the provisions of the National Social Security Funds (NSSF) to informal economy workers, a battle that appears uphill. "Like in many other countries, social protection is only for people with formal employment" Samphous explains. "Informal economy workers often have to pay by their own pocket for benefits such as hospitals or child care".
In 2022, the National Social Security Fund did a pilot project for tuk tuk drivers in partnership with IDEA. Samphous explains that depending on the outcome of the pilot program, the NSSF hopes to extend its reach to street vendors and domestic workers . "We will for sure continue to work with the Ministry of Labour on this topic", she says.
Meeting with street vendors organized by IDEA
An issue of gender and class
"The majority of street vendors in Cambodia are women,as are 90% of IDEA members", Samphous continues. "They have no specific protections, no maternity leave and no guarantees. They have to work through pregnancy. Due to their generally low income, they are unable to pay for social security on their own, or for private services". After the kids are born, a lot of women have to bring them to their workplaces: it's not uncommon to see young children around the market with their mothers.
There is also an issue of social class to be taken into consideration. Many women working in the informal economycome from rural areas and from poor families. They face discrimination and difficulties in access when they approach public hospitals. "Doctors often discriminate against people with low-class backgrounds. In the hospitals, there are a lot of forms to fill, and documents to give. It can be very intimidating for people with lower literacy levels".
There is also the question of elderly workers. According to Samphous, 30% of street vendors are over the age of 50: this means that workers have a higher probability of falling ill, and they might be forced to work well into their old age.
Many working poor become street vendors as a way to make ends meet, even when they might have other jobs or sources of income which are not enough for their survival. However, the reality of street vending is often ignored. In 2020, the government tried to introduce a form of identification for street vendors that could help them get licenses allowing them to sell more easily. But there was one fundamental problem: "Only people who worked up to eight hours a week could register. This obviously does not reflect the situation of the majority of our members. The authorities were also asking for a permanent address of the shops, or a permanent home address. Many informal traders are unable to provide these details". IDEA has tried to lobby to remove this conditionality, but it has not been successful yet.
The violence from authorities
Street vendors, working mostly in public places, often encounter hostility from police forces and authorities. Cambodia is no exception. "Security authorities try to trick vendors into moving their stalls" Samphous continues. "They try to make them move away from roads. There is also an issue of extortion: some vendors end up paying a lot of money to different authorities, and not in a way that is compliant with the law. We never know who our members end up giving money to".
IDEA has identified an issue of road safety. "Roads in Cambodia are small, and there is a lot of traffic congestion. Vendors are at risk of being involved in road accidents".
Global advocacy for the extension of social protection
IDEA is one of the many StreetNet affiliates advocating for the extension of social protection to informal economy workers. You can see here some more resources about informal economy workers' demands to decision-makers and efforts to fill the gaps via cooperatives:
Street vendors meeting at the IDEA premises
The role of international solidarity
Members of IDEA are being targeted because of their involvement with an independent trade union. "If some people speak or expose themselves at events, the police can target them" Samphous recounts. "Sometimes, they have been asked to withdraw from union activism in exchange for a secure space to sell".
"This is why" Samphous concludes "It is important to build international networks, too. We are affiliated to StreetNet, IDWF and we work a lot with Oxfam. Building international solidarity means building power".
Type of article

Country

Categories