Anathalie Iamubonye (SYTRIECI – Rwanda)
"I can ensure the future."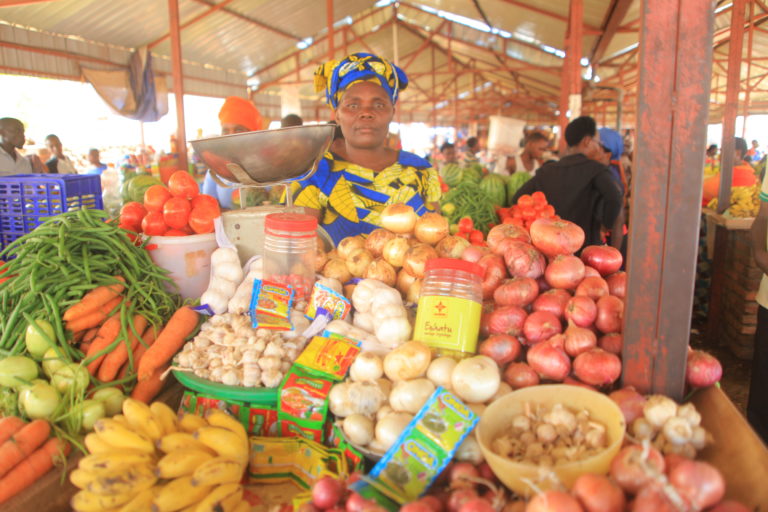 Even amidst all the vibrancy of the Nyabugogo Market, vegetable and fruit vendor Anathalie Iamubonye is hard to miss. In a deep blue and yellow dress with matching headscarf, she stands confidently behind a stall heaped with high-quality onions, garlic, bananas, long green beans, thick carrots, and ripe tomatoes. Though she is now 50 years old, this confidence is newly found.
Anathalie began vending as a young mother of five children when her husband, a gardener, couldn't make enough money to support the family. Anathalie herself couldn't find work because she hadn't gone to school and because, as she says, "I was raised to be a housewife." Every day was a struggle with hunger and housing. Though Anathalie eventually found work as a domestic worker, her income was not enough to pay for rental housing, let alone for school fees. Soon, her children were forced to drop out.
Street vending became Anathalie's only option. "It was really hard with all the dangers that it implies," she says. "I had to do vending on the road, walking with my two last babies all along the day—one on my back and one walking beside me. Sometimes we got imprisoned because, in my country, vending on the street is prohibited. Another big problem was that I had to carry the fruit on my head under an overwhelming sun, which decreased their quality. This affected the price, and at the end of the day the income problems were still there."
She recalls "Our lives were vulnerable and permanently in danger."
Anathalie believes her family would still be facing this level of vulnerability and hardship had she not joined SYTRIECI three years ago. "I joined," she says, "because I understood it would help me find a solution to my problems."
She began attending monthly meetings, which helped her learn about saving. After joining an SSF, she was able to take out and manage interest-free microcredit. Because she was able to increase her capital in these ways, she could afford the market stall SYTRIECI helped her secure. This success has had a cascade effect—now not only can she feed her children and pay their school fees, but she has also bought a house.
Anathalie has also learned about diversifying her income sources. Because it's part of StreetNet International and its global network of street vendor organizations, SYTRIECI was able to host a learning exchange visit with trade unions from Kenya and Uganda. The visit introduced Anathalie and 70 other women to handcraft making as income generation. Now, as Anathalie says, "I have two options to earn income. When the market is not going well, I can sell handcrafts and continue to take care of my family."
Anathalie says trainings like this have opened her mind to new possibilities, and she hopes to receive more advanced training on how to manage a business and even develop a small enterprise. "This way," she says, "I can ensure the future."
Read all our stories of street vendors in Rwanda by downloading the PDF.