Streetnet International President's Message on International Vendors Day (14 November 2016)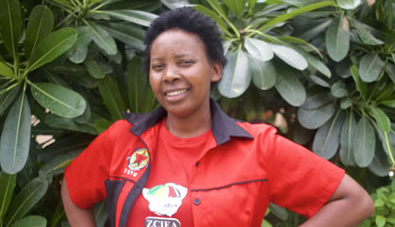 14 November, 2016
Comradely Greetings to you all Informal Economy Workers in the entire world.
Today marks the 5th commemoration of the International Vendors Day. This is a special DAY for all informal economy workers who have become the bulk and majority of the working population across the whole world, of which the majority are women.
As the formal economy continues to shrink due to casualisation of work, company closures and growth of precarious work in the formal set-up, the informal economy work has continued to offer fall back survival and livelihood lines to the world's populace, with street vending been the simplest and highest sector. However, these workers have and are continuously being victims of HARASSMENTS, CRIMINALISATION, POLITICISATION, DECENT WORK DEFICITS which include lack of social protection.
The importance of this day is that we as informal economy workers have continued to assert ourselves and fight for our rights and dignity against all odds. Our hope has been strengthened by the International Labour Organisation Recommendation 204 of 2015 which speaks on the transformation of the informal economy to the formal economy. This puts us on a high pedestal to set conditions and dictate the pace for the transformation process.
Therefore, comrades outside the sufferings we have been going through, our celebration or commemoration this year is equipped with the ammunition (R204) which awaits our practical implementation to cause our governments and the entire world decision making bodies not to ignore us anymore. It is our obligation as a united force to keep fighting this war. Let us not tire or allow anyone to divide our efforts. Our struggle is ONE and UNITED WE STAND, TOGETHER WE CAN under a TOUCH ONE TOUCH ALL approach.
Lastly we need to all popularise the commemoration of this day as much as possible through awareness campaigns and various activities so that we build on the visibility of the day. This should strengthen the day to become a holiday event for us in the international calendar.
As StreetNet International we say "NOTHING FOR US WITHOUT US".
Thank you.
Lorraine Sibanda StreetNet International President