Inspiring Workers: Lorraine Sibanda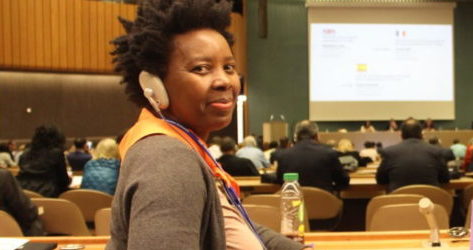 Lorraine Sibanda, also known as Lorraine Ndlovu, is the first women President of StreetNet International. Being the
first woman leader in an organization is not news for Lorraine – she has been a
trade unionist since her early twenties, and she tore down boundaries for women
everywhere she went.
A kind of superwoman with a contagious laugh, Lorraine has been a teacher, a student activist, and a leader for informal economy workers – all of this while pursuing her own activities in the informal economy as a trader and dressmaker.
Early life in a "supportive informal economy
home"
Born and raised in Bulawayo, Zimbabwe, Lorraine grew up with five sisters and seven brothers. Her parents were also informal economy workers and Lorraine learned many skills from her mother, who she described as a "strong woman" who did many different jobs to support her family, including sewing and selling vegetables. Lorraine and her siblings sometimes helped her mother as well, but the family wanted them to focus on school.
"Education was a treasured aspect in our family. Our parents valued education" She trained as a laboratory technician, but her passion for social science subjects inspired her to become a teacher.
A passion for education
"My teaching career emphasized my love for the vulnerable of society" says Lorraine. She specialized in teaching English as a foreign language to primary school children. This experience taught her that play and learning go together – although not all children were equally good at mathematics, for example, many loved to make music and dance. "Not all children are academically gifted, but all children are indeed gifted in different spheres of life".
Lorraine saw her mission as a teacher to identify the specific gifts of her young students and make learning an enjoyable experience. She was so successful at it that many of the children have now respectful positions in society, and they will still greet her in the streets today. A few turned to the informal economy to earn money and Lorraine still works with them, urging her old students to continue learning and investing in their skills. Education, for Lorraine, is a lifelong endeavor.
Getting involved in the struggle for rights
Before becoming a teacher, Lorraine was employed as a factory worker in her early twenties. She became a trade union activist when she witnessed the many injustices suffered by workers, which included intrusive searches by security guards when the workday was over.
"I have always been a political animal" she says. It was dangerous to be a trade unionist. Her father used to worry
Lorraine's activities would get them arrested, she recounts. But that experience was incredibly important for Lorraine. Her times in the trade union as a young woman taught her how to manage the opposition. However, it also attracted a lot of attention. Lorraine lost her job after her contract was over.
In university, Lorraine was the first women President of the Student Representative Council. "That was another roller coaster" Lorraine says, "I observed a lot of injustices, but acted on them". The rents were high, some students could not afford to pay and had no food. Thankfully, the students stood up for their rights and they were a very united group. "If we had a problem in the morning, by lunch time we were eating together".
Rising as a woman leader of informal economy
workers
"I was sort of a deviant." Lorraine laughs. At the time, it was not normal for women to be involved in either student or union politics. There was some backlash, but Lorraine never allowed herself to be a victim. "When you are a woman leader, if you allow others to treat you as a victim, the people who follow you and look up to you will have their rights violated."
For Lorraine, it is clear women's leadership is crucial when fighting for the rights of informal economy workers. "There's
higher percentage of women in the informal economy, so there's no reason to have mostly male leadership. Women should be encouraged to step up and lead."
Lorraine's story as a leader of informal economy workers is an illustration of what can happen when women step up and claim their voice.
In 2006, Lorraine left her teaching job due to harsh financial circumstances. It was preferable for Lorraine to focus on her informal work selling beauty products to support her aging mother and to take her
daughters through schools.
When Lorraine's mother passed away in 2007, she was approached by an organization called Bulawayo Agenda. They trained her in local governance and later introduced her to the Women's Coalition of Zimbabwe, where she was elected the local chapter chairperson for Gwanda, where she was living, in late 2007. Through Women's Coalition of Zimbabwe, Lorraine did many activities educating women on women's rights, policy, and constitutional education. She left her position in 2016 to open room for more women to lead. In Lorraine's words, she did not want to compete with leaders who spent decades in power without providing spaces for others to step up.
At the same time, Lorraine focused on building the Zimbabwe Chamber of Informal Economy Associations [ZCIEA]  in her city of Gwanda, recruiting increasing numbers of members. In 2008, Lorraine was elected in Gwanda as the Vice-Chairperson of ZCIEA an affiliate of StreetNet International.  In 2013, she rose to territorial president of Gwanda. At the same time, Lorraine was tasked with assisting young people to come up with a strategic plan and to do a position paper on social protection floors for the organization at the national level. She also participated in drafting a gender policy for ZCIEA in 2012 and 2013.
In 2015, ZCIEA had a national congress to elect
leadership for the next five years. Lorraine was urged to apply from fellow members. She was unsure, "but the people were persistent" she says. Eventually, she ran and was elected ZCIEA National President.
The priorities of the newly elected leadership were:
To continue the fight for women's rights.
To continue to instill confidence in women.
Build women leadership, but also youth leadership and leadership by people with disabilities.
Make the organization sustainable in terms of resources and membership.
Invest in capacity-building, for members, staff, and leadership.
In 2015, there were only 2 staff members – a part-time Secretary General and a full-time Office Secretary. Today, ZCIEA still has a full-time office secretary, but there are now two offices in Bulawayo and Chifu, a full-time Secretary-General, a Finance Officer, an Information Officer, and a Projects Officer.
In addition, ZCIEA takes interns, providing opportunities for young people who often cannot find jobs, even when they are well-educated.
Since 2015, ZCIEA has worked on building leaders and members' capacity to facilitate workshops and meetings on different topics. Some activities have also been decentralized to enable territories to do them themselves, reporting to the head office. In 2015, ZCIEA was present in 30 territories – now, it is present in 43, and there are 7 more in the pipeline.
Overall, Lorraine's mandate as President has seen the organization grow and become stronger. "We have a very large and hard-working team, and I am very happy about that", she smiles. Many of the current workers have been involved in the organization since they were young, and they grew with it as well.
Becoming President of StreetNet International
In 2016, StreetNet held the International Congress in India. At the time, Lorraine had been approached by ZCIEA members to apply for the position of StreetNet' President but, just as before, she was unsure. ZCIEA's Secretary-General, Wisborn Malaya, was confident that what ZCIEA has achieved under Lorraine's leadership could be replicated in StreetNet, and he made sure other members knew about it as well.
Lorraine shares her memories from the International Congress:
"We got the support from many other brothers and sisters within StreetNet. I will never forget the Congress in India; it was a real experience. Sometimes I was feeling cold, sometimes hot, sometimes I felt like stepping back and others like going forward. But in the end, I said: this is for all the women who have ever missed opportunities to showcase what they can do."
Before Lorraine, StreetNet only had male Presidents. Therefore, Lorraine became the first woman President, and, as she
points out, the first African President. "I made history and broke a record, of which today I am deeply humbled by the comrades who put so much confidence in me".
In 2019, Lorraine was re-elected as President in the International Congress in Kyrgyzstan. When asked what Lorraine feels about her time with StreetNet so far, she says "It has been an eye-opener, it has built my confidence and capacity to articulate informal economy issues and to represent. And not only to represent, but to build other people's capacities to speak for themselves."
"Because I believe only the affected can articulate their issues. I don't believe in being the voice of the voiceless. There is nothing like a voiceless person. They need to give you their thoughts and issues and then you speak on their behalf."
Advocating for informal economy workers
Being President of StreetNet International has made Lorraine aware of the changing world of work on the global level. It only made her realize the growing importance of informal economy workers:
"The informal economy is an important matrix of any country's economy. And if a country is to prosper or grow economy, it has to embrace the informal economy workers. The informal economy endeavors. Support them. Grow them. And bring them to formality, so they can contribute in a more sustainable manner towards the economy."
Lorraine is quick to point out that formalization, unlike what some policymakers seem to think, is not simply about
taxation of informal economy workers. It means having social protection across the board, and ensuring inclusive access to markets, to capital, and also to social dialogue platforms.
For Lorraine, the priority is making StreetNet's slogan "Nothing for us without us" come true. As she explains "Informal
economy workers should not be on the table, they have to be at the table to give their own thoughts and lived realities. So they can inform policy and economic development, of any nation."
Some advice for young women's rights activists
and trade unionist today
The current pandemic is threating women's and workers' rights across the globe. Now more than ever, Lorraine knows we must stay active and continue fighting. "The struggle continues! We cannot give up, sit back, and blame COVID-19. There must be a way around it. We have to find alternative approaches to regain all the advances that we made." She urges.
As for the youth, Lorraine offers them words of encouragement, "Never let anyone tell you that you are a fighting a lost cause. There is nothing like a lost cause, as long as you know where you want to get to. And as long as you are living the reality, you know where you want to go and how to get there. Keep going and one day all shall be well."
Lorraine is doing her share as a leader to provide opportunities for the youth. She comments, "Although people say the
youth are the leaders of tomorrow, when should you give them tomorrow when we have today?" "Let them lead today, give them that capacity and opportunity!"
Fighting for rights while working in the informal
economy
Lorraine has a busy schedule. Her work with ZCIEA and StreetNet has taken her across the globe to advocate for the rights of informal economy workers. The reason why she trusts in herself to be competent spokesperson is because she continues to be, herself, an informal economy worker. "I still work, I still sell and I still to my dressmaking and
designing things" she smiles. Her advocacy work is voluntary, so Lorraine continues to lead the same lifestyle as she has for decades.
"Just before you called, I just finished ordering my peanut butter. I will be selling the bottles for a small profit.
And life goes on."
Type of article

Country

Categories
Tags