Inspiring Workers: Angélique Kipulu Katani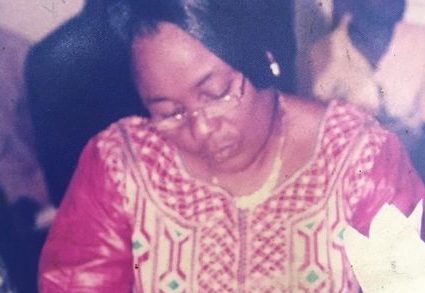 Angélique Kipulu Katani is a current Member-Auditor of the StreetNet's Executive Committee. She emerged as an accomplished women leader in the trade union movement and a fierce advocate for women's rights in her home country of the Democratic Republic of the Congo and beyond. Her main priority now is the defense of the rights of women informal workers, especially street and market vendors.
A woman leader in the trade union movement
Angélique is the youngest child of fourteen brothers and sisters. She grew up in the territory of Masi-Manimba in the Democratic Republic of the Congo, in her hometown of Saka. Her father worked in a company in the city and her mother was a homemaker. As a young girl, Angélique studied in a catholic school and managed to finish her high school degree with a specialization in Commerce and Administration. After getting her secondary studies diploma, she was married and had three children, two sons and one daughter. However, shortly after she got divorced.
As a young single mother with three children to take care of, Angélique decided to come to the capital of Kinshasa to find work and was employed by a company focused on maritime transport. At the same time, she enrolled in university to study Commercial and Administration Sciences, specializing in accounting, at the Institut Supérior de Commerce de Kinshasa.
Attesting to her determination and work ethics, Angélique finished her course in four years while working and caring for her children. She remembers how busy her schedule was at that time: "I went to work in the morning. At 4 pm, I would go to the Institute for classes. I finished school at 8 pm, and then I would go home". Despite juggling several responsibilities at the same time, Angélique finished her degree with honors.
At the same time, she started to become involved in the trade union movement and became a member of the Union Confederation of Congo (Confédération Syndical du Congo – CSC ). After a few years, she was elected as a union delegate in the company she worked for. All other four delegates were women as well. Later, her work was recognized by CSC and she became the Permanent Officer of the Women's Department for the city of Kinshasa.
She continued to evolve as a young trade union leader and started to represent the CSC at the international level. In 1996, she was elected as a member of the Commission of Women of the Organisation Démocratique Syndicale des Travailleurs Africains – ODSTA, a pan-African alliance of trade unions. In 1998, she was also elected member of the General Council and of the Executive Committee of the World Confederation of Labour – WCL. According to Angélique, her meteoric rise was partly due to the absence of other women leaders at the time. "There were not enough women in trade union who would advance to reach such positions", she explains.
Each year, she would attend the International Labor Conference in Geneva as a representative for one of these organizations. There, she started to take notice of the frequent demands to organize informal economy workers and involve them in the labor movement.
Organizing women informal economy workers and joining StreetNet
By 2006, Angélique was the Vice-President of CSC. She was tasked with financial management of the trade union confederation and was also responsible for the Women's Department. The demands by ODSTA at the regional level to organize informal economy workers were growing, therefore Angélique decided to take action "I started going to the markets and contact women street vendors so we could organize. I would talk to them, explain the role of trade unions and invite them to work together" she remembers.
That same year, ODSTA gave her a budget of 4,000 USD to organize an activity for women informal economy workers and explain why the trade unions were interested in working with them. Therefore, she organized an activity for 30 women from different markets. After the activity, they drafted a plan about how to work together with all those women from different sectors. "Yes, they are all vendors" explains Angélique "but focused on different kinds of goods".
At the same time, Angélique had also been working as women's rights advocate. In 1999, along with other comrades, she founded the Ligue des Droits des Femmes Congolaise (League for the Rights of Congolese Women), an organization focused on women's rights which was independent from the CSC. Due to her role as an organizer of women informal economy workers, these started to become the main focus of the LDFC.
"We defend the women of the informal economy in our structure, because we think these women are in a defenseless position" she explains "More than 80% of the economy of our country is informal, and more than 80% of informal economy workers are women. That is why we work with them, why we support them".
In 2007, Angélique was attending the International Labor Conference in Geneva when a comrade from Guinea invited her to an exchange with Pat Horn, founding International Coordinator of StreetNet. It was then that the idea of LDFC joining StreetNet emerged and, by the end of the year, LDFC was officially an affiliate of StreetNet International.
As members of StreetNet International, LDFC has always remained actively involved. Together, they co-organized activities in Congo and LDFC enjoyed StreetNet's financial and capacity-building support. In 2019, Angélique was elected as a Member-Auditor of the Executive Committee at the 6th StreetNet International Congress.
Defending women's rights in Congo and beyond
Angélique has remained a steadfast advocate for women's rights all these years. Besides leading the LDFC, she is also responsible for the Coalition of Women for Peace and Development. Whenever she is advocating for women's rights, she makes sure to focus on the precarious situation of women street vendors.
"Women's rights are trampled upon everywhere." she states "With everything that happens in the context of violence against women, especially in our country, where there is war and other problems, women are abused all the time. Those working in the informal economy, wherever they are selling, they are pushed over by the police, by municipal authorities…these are women's rights being trampled upon".
Due to the tireless activism of Angélique and her comrades, the LDFC is recognized as a leading voice for women's rights in the Congo, working closely with the Ministry of Gender, Family Affairs, and Children.
The organization also belongs to several international platforms, including WIEGO and FEMNET. Furthermore, the LDFC acquired Consultative Status in the United Nations Economic and Social Council (ECOSOC), which allows the organization to make their voice heard at the highest level international human rights forums.
Considering how women's rights have guided Angélique's life, it is no wonder that her advice to young women is to "always defend women's rights". As she explains, such rights "are essential for everything. If we are ignorant, we do not understand anything, and we cannot defend these rights." That is what Angélique tries to do through LDFC, to "bring these messages and this knowledge to women. To let them know that, even if they are in a difficult situation, they have their rights, they must know how to defend themselves. And we provide them with the tools they need to do so and do what must be done".
Angélique also understands that encouraging young women to become part of the movement is essential. "Where I work, I am the oldest" she states "We encourage young women. When we go on fieldwork and young women see we are working with the youth, they will join us more easily to defend their rights."
Angélique's life's work exemplifies how women's rights and the rights of informal economy workers are intimately interconnected. It is a testament to what women can accomplish when they became leaders in their own right, and how women leaders can support others to follow in their footsteps.