6 months of pandemic: StreetNet's response to COVID-19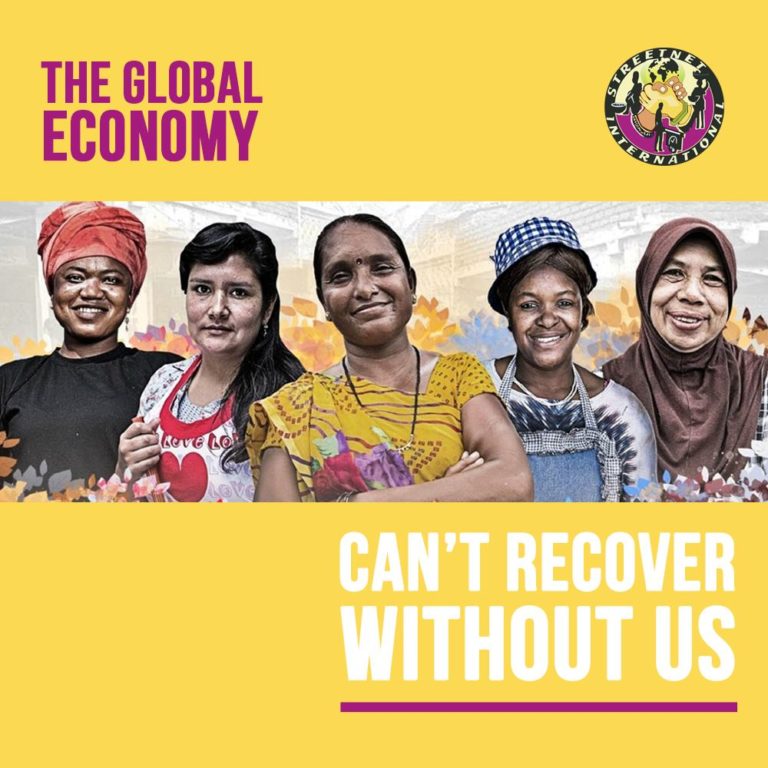 When 2020 started, informal traders all over the world had no way of knowing this year would put their resilience, determination, and solidarity to a more challenging test they could hardly imagine, despite their lives always being in danger. Six months after the COVID-19 pandemic ravaged the world, leading to crippling social and economic problems for all nations, we can attest that StreetNet International and its affiliate organizations have risen to the challenge.
The StreetNet
International statement in response to COVID-19, issued as a primarily immediate
reaction to the global pandemic, assisted affiliated organizations in
navigating these tough times. Specifically, StreetNet International encouraged its
affiliates to:
"Call on your governments both at
local and national level to consolidate their efforts and all stakeholders
concerned to put in place measures and resources to keep all workers and their
income safe, no matter what their job or employment relationship is;
Call on your governments to provide a
universal health care and a basic emergency living cash grant to all informal
economy workers and the most vulnerable categories of population regardless of
their nationality and residency status;
Call on your governments for all
informally engaged workers and the most vulnerable to be exempted from the
bills for utilities during a time of coronavirus crisis;
Call on trade unions, CSOs and any
other possible allies in your countries to jointly advocate and address the
government with possible solutions in response to the COVID-19 pandemic,
considering all workers, despite their formal or informal employment form;
Call on your members, comrades and
all citizens in your community and country for a mutual solidarity support to
assist each other in such a needy times and global crisis."
Many
affiliated organizations consolidated these demands and made great strides for
informal traders' rights and livelihoods during the pandemic.
Our women and
men on the ground
Since the
beginning of the pandemic in March 2020, street & market vendors, hawkers
and cross-border traders have been mobilizing and organizing to ensure No One
is Left Behind. From crowdfunding initiatives to vigorous advocacy, informal
traders are calling for recognition of the key role they play in the economic
and social lives of their communities and their countries.
Contradicting
fears that informal traders were vectors of infection, affiliates across the
globe are leading the way when it comes to respecting health and safety
guidelines. In a few months, they managed to come up with alternative practical
solutions and adapted their operations in response to the pandemic by wearing
masks, washing hands, practicing physical distancing, and monitoring compliance
with protocol regulations.
Affiliated
organizations had to deal with changing circumstances and faced different
challenges according to their local context.
In some
cases, both local and national authorities have teamed up with informal traders
to monitor markets, demonstrating how a joint response is the best solution to
such a crisis. In other cases, informal traders have suffered from intensified
police brutality, which was only made visible due to
the work of activists on the ground.
In some
countries, informal traders have been targeted by social
protection policies that ensure their survival, in large
part due to the lobbying of informal economy workers' organizations. In other
countries, they had to rely on their own networks and local community for
sustenance.
Responding to
all these challenges while respecting lockdown rules and physical distancing,
required informal traders to become comfortable and innovative with information
and communication technology extremely quickly.
Crucial face-to-face interactions had to move to WhatsApp, Viber, Zoom,
Skype technologies – which required an enormous effort and willingness to learn
and adapt from informal traders who were already overwhelmed with other issues.
After half a
year of hard work, informal traders and other informal economy workers are
bracing themselves for the difficult times to come with the rallying cry 2
Billion Strong: Recovery Starts With Us!
Joining
forces
On May 1,
2020, StreetNet International and other informal economy workers' organizations
representing waste collectors, domestic workers, and home-based workers, joined
the WIEGO Network Global Solidarity Platform and developed a
statement based on three principles:
Informal Economy Workers Are — and
Have Always Been — Essential Workers
The Global Economy Can't Recover
Without Us
Economies Must Be Reset to Align with
Core Principles of Inclusion
The demands
in this statement were then the basis for a social media campaign "2 Billion
Strong: Recovery Starts With Us", focusing on the importance of the work
performed by informal economy workers and how these essential workers should be
involved in responses to the global pandemic.
StreetNet
International also joined forces with other international organizations. Oksana
Abboud, international coordinator, participated in the Cities Alliance webinar "Learning
from Cities to Advance Gender Equality—The new EU Gender Action Plan in light
of COVID-19", on June 26, 2020.
StreetNet
International also co-organized a side event during the High-Level
Political Forum on July 16, 2020 and organizer for the Americas
Maíra Vannuchi presented a case study of Brazil's universal basic income
policy.
StreetNet
along with other organizations representing informal economy workers joined the
upcoming Global 16 Days Campaign scheduled for October 2020, led by the Center
for Women's Global Leadership, which will highlight the importance and value of
women informal economy workers, their great contribution to the national
economies but at the same time will emphasize on elimination of violence and
harassment in the world of work calling on the governments to ratify the ILO
Convention 190.
Tracking and disseminating information
During the pandemic, StreetNet's team developed a system for tracking information in its Affiliates' countries regarding COVID-19 related policies, their impact on informal traders and initiatives developed by affiliates.
Through this tracking system, StreetNet's team was
able to identify
best practices by affiliates in specific countries and share useful guidelines
and examples related to solidarity and health and safety at working space.
Along with WIEGO, StreetNet also developed the COVID-19
Health Guidelines for Informal Traders, which were translated in different languages and widely
disseminated through StreetNet's communication channels to all its Affiliates.
Strengthening our affiliates: an action roadmap during
and after the pandemic
The pandemic demonstrated the resilience and
determination of affiliates, but it also allowed StreetNet to identify the most
challenging gaps in knowledge, skills and capacity. As such, StreetNet is now
investing in activities to strengthen the capacity of its internal operational
team as well as its affiliates to properly respond to the COVID-19 crisis and
further advance the organizations.
The Emergency
response project is supported by the Open Society Foundations and focuses on 7
main areas:
Strengthening
Capacity and extending a StreetNet operational team;
Providing
technical expert mentorship for strengthening affiliates' capacity on strategic
planning and advocacy;
Online
trainings on negotiations skills for informal economy workers
Communication
package support for the affiliates;
Country-based
projects on post-COVID19 recovery plans for the affiliates;
Online
thematic webinars to raise awareness and promote visibility of informal economy
workers, their main needs and concerns;
Establishing
a properly functioning internal and online communication system.
StreetNet's strategy
with this project is clear: in the short-term, the priority will be to set up
an effective coordination and communication operation system. This way,
StreetNet will be able to provide immediate technical support to the affiliated
organizations, focusing on sharing best practices and initiatives in response
to the pandemic as well as solidarity support.
The priority for
medium and a long-term perspective – it is to strengthen the capacity of
affiliates to advocate for themselves and their members on the local and
national levels. This means the affiliates should be recognized as essential
actors representing informal traders with established long-lasting negotiation
forums in governments, which will allow them to have a united voice in governmental
discussions and decision-making processes including with regard to new models
of economic recovery in the post-COVID-19 period.
Moving forward – stronger, united and in solidarity
Six months of pandemic take a toll on every person,
organization, and country. And yet, there are still reasons to be hopeful. The
health crisis was very damaging for informal traders, but people across the
globe realized how important their work is probably for the first time. Through mobilizing,
organizing, advocacy, lobbying and solidarity, informal traders are making a
noticeable difference in cities as far apart as New York and Durban. The models
of economic recovery chosen by different governments will shape the
post-pandemic world. Now is the time to have our voices heard and state, as
loud as we can because – Nothing for Us without Us!
The crisis also opened up some emerging opportunities
for the informal traders to be able to intensify their struggle for
recognition, establishing dialogue with authorities, promote formalization of
their jobs and to design the future they want.
The situation for informal traders in many countries
is still critical. Now, more than ever, their essential contribution to social
and economic development must be recognized and respected by all.
StreetNet International is mobilizing all their
affiliates and supporters to promote the rights of street, marketvendors,
hawkers, and cross-border traders to dignify their lives and jobs. Follow us
on Facebook and Twitter, and amplify our message.