STATEMENT BY UNION OF INFORMAL WORKERS'ASSOCIATIONS (UNIWA) OF TUC (GHANA)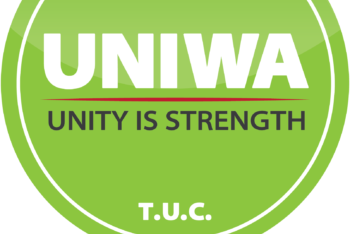 On Thursday 15th of July, 2021, armed uniform men from the Ghana Police Service in what can be described as a guerilla warfare style, brutally assaulted Solomon Ansah a 32year old Street Vendor who is married with three children. According to Solomon, his only crime for which the Police Service swiftly responded with instant justice was that, he was selling on the streets opposite the Palace Shopping Mall which is on the Spintex Road to cater for his wife and three children. Prior to this cruel treatment by the Ghana Police and the Ledzokuku Krowor Municipal Assembly, his wife was almost due with their fourth child. This is a heartless act from two Ghanaian institutions whose mandate many of us can tell is to protect the rights of the weak and vulnerable.
We, at UNIWA of TUC (Ghana) condemn these acts of brutalities visited upon Solomon by these heavily armed uniform men from the Ghana Police Service ably assisted by some officials of Ledzokuku Krowor Municipal Assembly. The Ghanaian laws are clear on how citizens should be treated if suspected to have committed a crime. Solomon Ansah who is a Street Vendor, just like all other workers in Ghana fundamental human rights enshrined in the Ghanaian constitution. Ghana Police Service and Ledzokuku Krowor Municipal Assembly cannot therefore take his human right for granted.
UNIWA of Ghana (TUC) as a union committed to the promotion and protection of informal workers including Street Vendors , we have already commiserated with Solomon and family. We are also doing everything within our capacity to assist him seek redress from the appropriate authorities in Ghana.
Street Vendors in Ghana face a myriad of disadvantages. The harsh economic realities, coupled with decreasing employment opportunities in Ghana, continues to push many of our teeming youth unto the Streets to seek for better ways to survive. The business of Street Vendoring which is very popular within urban townships provides food for many poor families on daily basis. Street Vendors sell anything from dog chains, apples, sachet water, art works and more. As an alternative form of livelihood it has also kept many out of crime and other social vices.
However, the advent of the Covid-19 pandemic has worsened the situation of many people especially those in the informal sector including Street Vendors. According to a report published by the Trades Union Congress of Ghana in December 2020, the development of the virus in Ghana and its containment measures have impacted adversely on enterprises, jobs, incomes and other sources of livelihood of millions of people across the country. The impacts are still biting especially in the informal sector where earnings are low and irregular. That is why a Street Vendor like Solomon Ansah and many others will resist every attempt that seeks to curtail their efforts of making ends meet.
In Ghana, although informal workers contribute significantly to the economy, they are powerless under the heavy hands of Police and Local authorities. Street vendors have, therefore, been abused and assaulted with very little regard to their rights as humans. The little capital many of them have managed to save have been exhorted by City officials, many of their goods have been seized and others stolen and their stalls have been destroyed so they seek to survive on the streets of Ghana. Many others have brutally been beaten and even maimed like the case of Solomon Ansah.
We will continue to urge Street Vendors to join UNIWA to make their voices stronger through the TUC Ghana. We want to assure all informal workers especially Street Vendors in Ghana that we are with them in this struggle. There are laws enshrined in the constitution to protect their rights as humans. We are actively involved in the review of the Ghana Labour Act 651 (Act 2003) to secure it's full protection of Informal workers labor rights. We promote and protect the interest of all informal workers including Street Vendors and will continue to reach out to the powers that be and ensure that these rights are respected. Harrassment against street vendors must come to an end now!
Type of article

Country

Categories
Organization