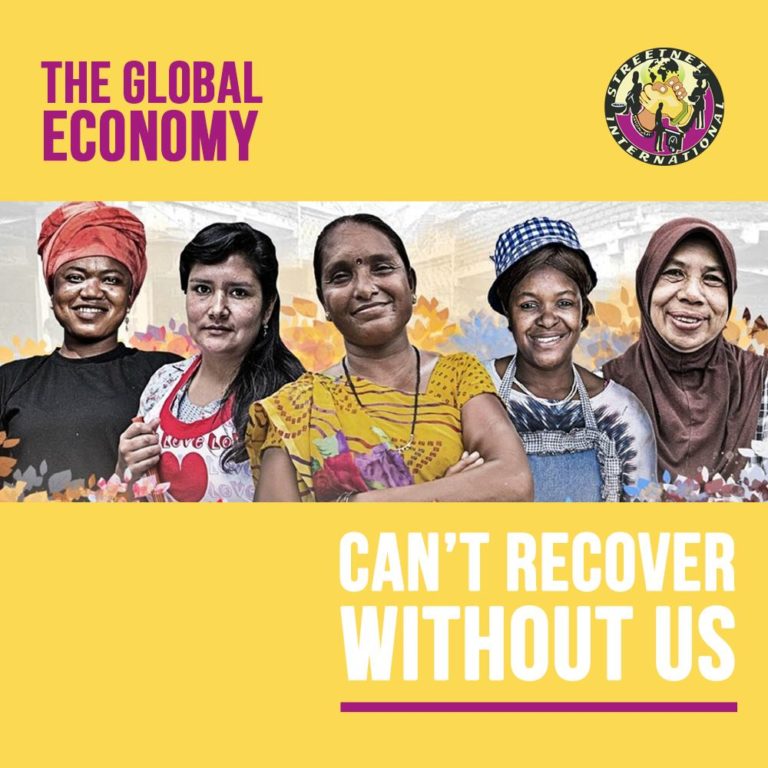 Since the start of the COVID-19 crisis, the affiliates of StreetNet International mobilized to support their members. Throughout lockdowns and quarantines, they continued to approach their governments and advocate for the rights and livelihoods of their members, calling for recognition of the value of their work. In many countries, StreetNet affiliates are playing their essential role in tackling COVID-19 jointly with government agencies.
The actions of StreetNet International and its affiliates are an illustration of solidarity and the power of collective action by informal economy workers in times of crisis.
A sample of initiatives from affiliates from around the world and StreetNet's guidelines for COVID-19 response.
BEST PRACTICES BRIEFS
GUIDELINES VIDEOS
Campaigns, presentations, country snapshots and initiatives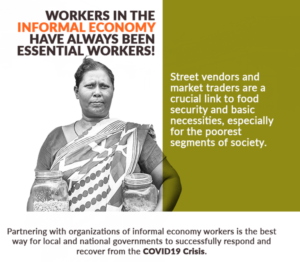 StreetNet International is developing activities to strengthen the capacity of affiliates to respond to the COVID-19 crisis and futher develop their organizations.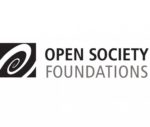 EMERGENCY FUNDS
During and post-COVID-19 crisis
This project is funded by the Open Society Foundations and it is based on 7 main activities:
Strengthening Capacity and extending a StreetNet operational team
Providing technical expert mentorship for strengthening affiliates' capacity on strategic planning & advocacy
Online trainings on negotiations skills for informal economy workers
Communication package for affiliates
Country-based projects on post-COVID19 recovery plans for affiliates
Online thematic webinars to raise awareness about informal economy workers & their mains needs & concerns
Establishing a properly functioning internal and online
communication system
StreetNet's short-term strategy is to set up a good coordination and communication operational system to be able to provide an immediate technical support to the affiliates. This strategy will gradually move towards medium-term and a long-term strategies on strengthening capacity of the affiliates to advocate for themselves at both local and national level; to become stronger and recognized, who are able to establish a long-lasting negotiations forums with the governments in discussion a new models of economic recovery in a post-COVID19 period.
Official statements issued by StreetNet International, affiliates, and partners:
We urge the government to set up consultative and inclusive all stakeholders dialogue platforms (Informal Economy organisations included) in order to come up with transparent processes of formalisation and regularisation of the Informal Economy that is developmental and sustainable from community level to national level.
StreetNet International, representing over 690 000 street vendors, informal market vendors and hawkers in 54 countries in Africa, Asia, the Americas and Eastern Europe, is deeply concerned about unprecedented pandemic COVID-19 and its rapid spread around the globe which has an enormous negative impact on one of the most vulnerable category of workers in informal economy. These are the workers who are usually not covered by labour laws or receiving social and health protections in their countries.
The criminalization and stigmatization of informal workers and traders must stop. Informal traders are also victims of Corona Virus and they want to prevent it, this is why they hid to the lockdown measures. Their right to food, work and life must be respected as they are equally citizens of Zimbabwe. We urge the COVID 19 task force to protect these innocent people and not treat them as criminals. We, therefore, call for collaborative efforts to fight the Coronavirus and not fight our people.
Street vendors and market traders are a crucial link to food security and basic necessities, especially for the poorest segments of society. Waste pickers / recyclers provide sanitation and solid waste services that contribute to public health, lower landfill costs and a healthier environment. Domestic workers are on the frontlines of meeting hygiene standards and providing care, including for the sick and elderly. Home-based workers keep supply chains running and are sewing masks and medical coveralls for the frontline workers. Economies everywhere depend on our work.
These health guidelines were developed jointly with WIEGO – Women in Informal Employment: Globalizing & Organizing .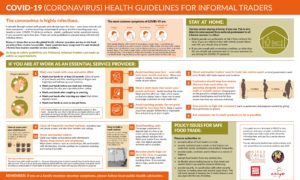 Download full file in English, Spanish, Russian or French "COVID-19 Health Guidelines for Informal Traders"