International Day of Street Vendors – November 14, 2021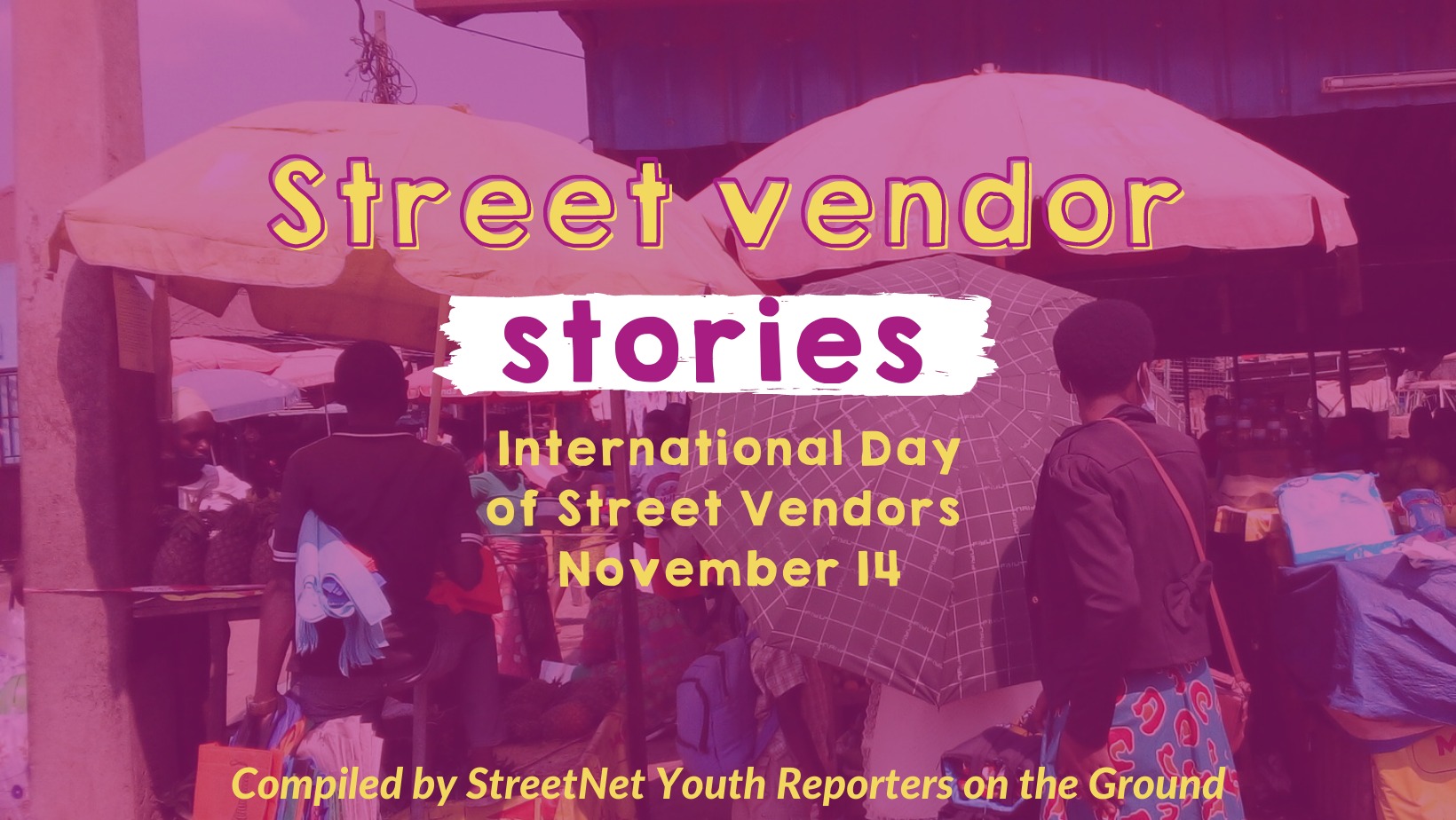 The following article was written by our Youth Reporter on Ground João Lucas Gama of UNICAB (Brazil) and are part of our campaign to celebrate International Day of Street Vendors 2021.
"My paternal grandmother was a street vendor in the center of Recife" remembers Robson Galdino, also known as Robinho "and so was my uncle! My aunt went from selling natural sandwiches in the Boa Viagem beach to selling coffee within SEASA". In 2006, after leaving her job as a photocopier in the Public Library fo the Pernambuco State and with the money he had earned from unemployment subsidy, Robson decided to follow the family tradition and set up the first snack stand in front of the house where he grew up, in the neighborhood of Várzea (west side of the capital of Pernambuco). At the time, he was 23 years old.
His business was at the end of a street without exit or pavement, which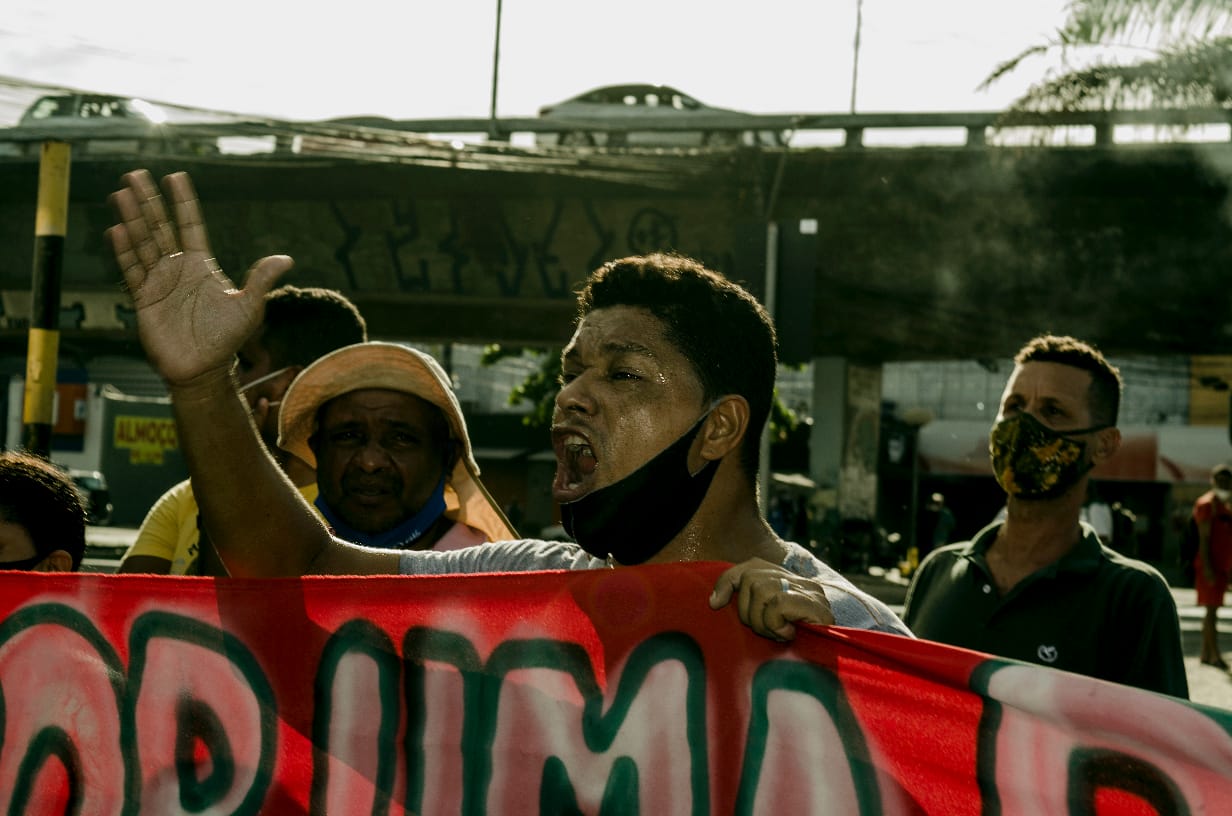 seemed forgotten by the municipality. A year after Robinho set up his stand, the public admnistration remembered the existence of the street in which he had lived most of his life. They did not provide any infrastructure or listen to what the residents had to say about the problems of the street. Instead, they decided that a work equipment in that place was bothersome for the movement of people and the extremely low movements of vehicles.
After several harassment episodes by municipal agents, he decided to change the address of his workplace and took the stand to the sidewalk of the Federal University of Pernambuco (UFPE) where, along with his wife and an ex-co-worker who had received part of his indemnity in xerox machines, open a photocopying business. There, he was just one more among many other infrmal straders that surround the sidewalks of the 149 acres campus. "I never received any notification by being on the Federal sidewalk, in the sector in which I work" comments Robinh "The university has four main roads: BR-101 (a federal road), the Avenue Arthur de Sá, the street Acadêmico Hélio Ramos and the Avenue Professor Luiz Freire.
With the high demand of professors and students, the business was prospering and soon Robon was able to continue on his own. After just three months, he closed the society and bought on credit a machine of his own. However, the apparent tranquility in being able to work would not last for long.
In 2009, the Mayor of Recife, João da Costa (elected by the Workers' Party) began a witch hunt against street trading in the city. Two years later, the systematic eviction of stands, kiosks and boards arrived to the neighborhood o Várzea, where UFPE is located as well as the people who live of it. Naturally, it did not take long for the threat to reach the sidewalk of the campus.
It was in 2011 that, as Brazilians say "o caldo engrossou". The Mayor notified dozens of people and gave a deadline of 15 days for the voluntary exit for dozens of workers from the sidewalk of BR-101. "We were already seeing that several people were being notified in the neighborhood and we started organizing", says Robinho.
It was through a friend and also an informal trader at UFPE named Ivonaldo Marcos (known as Belloto) that Robinho and other local vendors met Severino Souto Alves, who helped them create the Association of Barraqueiros of UFPE, an entity that was born as a response to "sanitation" promoted by João da Costa – which even went against the management of the two previous administrations of his party.
But the action of the public authorities came even before the Association was formalized. "One fine day, we woke up in the morning and the traders were all upset, because there was an operation there, with the Federal Highway Police, the Military Police of Pernambuco, Recife Municipality… an apparatus of police officers and Municipality cars to remove the informal trade at the Hospital das Clinicas [UFPE]", Robson recalls with dismay.
The creation of the association was still underway, but a commission of approximately 15 to 20 people was set up to go to the site in an attempt to dialogue and, if necessary, resist the removal of the stands; among them were Robinho and Belloto.
There was no agreement, but an order to open fire on workers, mostly women and the elderly. "The riot police came forward, threw gas canisters and fired rubber shots – I was shot five times in that police action." The tents were removed. The workers blocked the traffic and the police intensified the action. Reporters and press vehicles were sent to the scene, with live coverage from the main local television network; however, nothing prevented the men in uniforms from undertaking highly violent tactics against those who resisted in the hope of another day of subsistence.
That day, shots echoed at the doors of one of the main universities in Brazil. It cannot even be said that it was a day of war, as there cannot be war between marginalized individuals and those persecuted by armed bodies trained in warfare. What took part at the time was a massacre.
"Everyone was very ill, physically and psychologically injured", comments Robinho, without going into great detail. These details were unimportant, because in the images that have survived the 10 years since then, it is possible to hear the sounds of shots and explosions accompanied by the noise of the propellers of a Federal Highway Police helicopter flying over the chaos ready to feed it with more bombs; you could see the smoke from burning tires and garbage bags (which formed barricades between workers and police) and the scattered fog of pepper gas was so frequent you could almost feel the acid burning your eyes, nostrils, and throat.
After what happened, Robinho, Belloto and the others concluded that it was urgent to formalize the Association of Barraqueiros of UFPE, so that it could be constituted as an instrument of struggle for street vendors in the region. They then sought out every vendor from around the campus, summoning everyone to attend the extraordinary meeting where the organization's creation was completed, electing Belloto as its first president and Robinho as vice-president.
Once that was done, it was time for people to mobilize; with Severino's help and guidance, the organization gained legal support and began to have greater political activity, seeking assistance from councilors and social defense institutions. They held an act on the outskirts of the campus, also mobilizing the student body (which was extremely dependent on local businesses) denouncing what was being done to the merchants.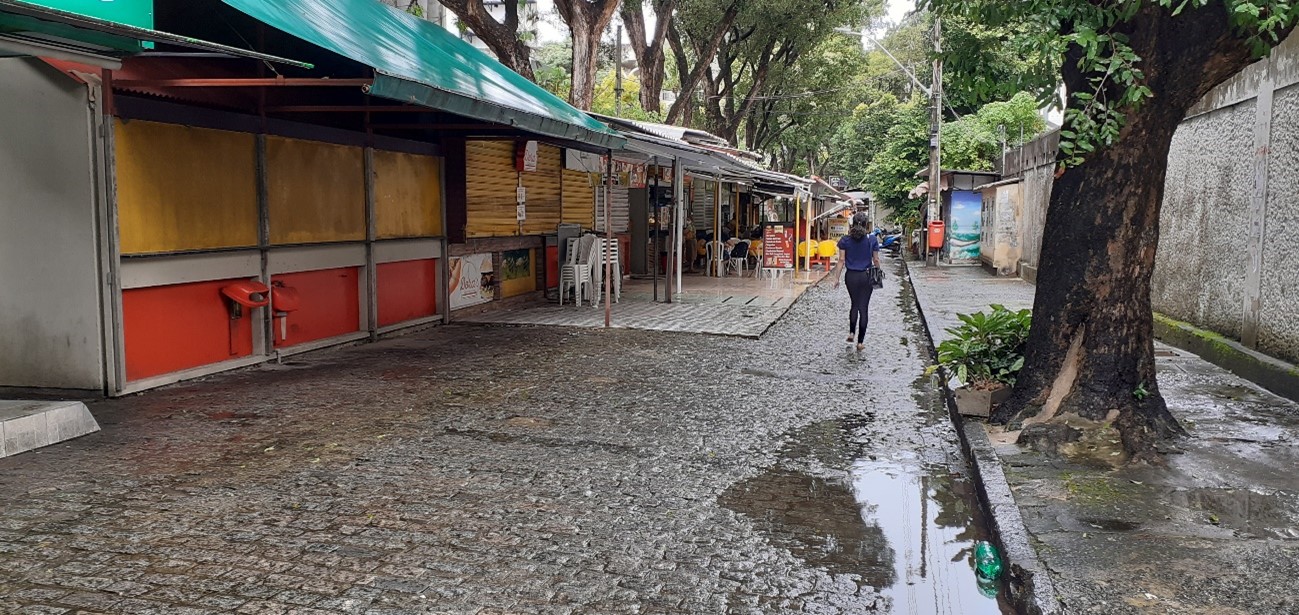 "We went after ensuring the right to work, which is a constitutional right", says Robinho, referring to article 6 of the Constitution of the Federative Republic of Brazil, which states: Education, health, food, work, housing, transport, leisure, security, welfare are social rights social protection, maternity and childhood protection, assistance to the destitute, in the form of this Constitution. "It was based on the Constitution that we sought and managed to pull a public hearing with all public agencies that were involved in the violent action that preceded the hearing", he continues, "in this process, we reached an agreement to put the stands back in a mobile format".
At that time, not only was Robson the street vendor born, but also Robson the militant and social leader. "That was when I discovered a reality that was seen but not felt; what my grandmother and uncle suffered as street vendors in the center of Recife ", he says with emotion. "All the persecutions of the municipality started to impact me and became a reality in my life; I was a young man, I hada first job (where I spent around 3 years) and, in a situation of unemployment and after some things went wrong, I ended up resorting to street vending and being pursued by the municipal government ; I had to move and there I found other people in the same situation as me. ".
After the creation of the Association of Barraqueiros of UFPE, Robinho, Belloto and the others began to export that form of collective organization to other parts of the city, where street commerce had a greater incidence. "One thing was very clear to me: the situation of the street vendor around the world. I began to see that that persecution was not something isolated, but that it was the persecution of a whole category of workers in the world; it is the attempt to end the right to work of this entire category and this is what happens every day". The associations were proving successful and revealing new popular leaderships among merchants.
These leaders later joined together to create the Recife Trade Union of Workers of Informal Trader, or SINTRACI – which started to organize these workers in response to the persecution suffered and establish negotiation platforms with the public administrations, asking for just one thing: the possibility to discuss the city planning so that it supports informal trade, presenting viable alternatives, such as the registration of street vendors, street vendors, stall-holders and street vendors; besides the standardization of equipment and the development of laws that regulate street commerce – guaranteeing the possibility of work instead of persecution promoted by the authorities.
"Street vending has brought me not only the possibility of exercising my right to work with what I like, what I want and what I am able to do, but added to that, there are also all the difficulties in being a street vendor in a country where there are no public policies for this; then you realize that you have to fight to have what is enshrined in the constitution as a right. You need to fight for rights that are already guaranteed. ". Recalling his history, he concludes that "the hardship of being a Brazilian, of being poor, led me to be a street vendor and the hardship of being a street vendor in a country that does not give you conditions led me to be an activist."
In his assessment, informal trade is the fastest growing category in Brazil and in the world, due to the very neoliberal and austerity policies that governments have undertaken over the last three decades, which resulted in the growth of poverty and the deepening of inequality, especially in non-rich countries. In this context, the most impacted are people who experience greater degrees of social vulnerability; for these, all that remains is survival through informality. "Informal trade is pursued precisely because there is a growth in this demand and this demand is beginning to bring another vision to workers: the ability to self-manage. ".
"This is a fight that is far from over, right? If we let them close the door to informal trade, for the power there will only be left an iron ball and a whip", he concludes.
The following photos and article were composed by our Youth Reporter on Ground for Eastern Europe and Central Asia Parvin Alizadeh and are part of our campaign to celebrate International Day of Street Vendors 2021.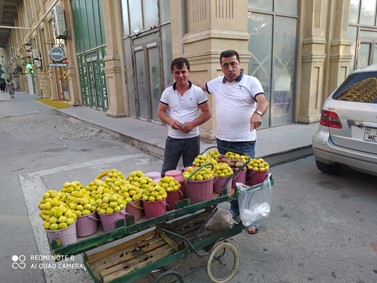 Our next hero is Shahin. He is 35-years-old. After the death of his father, he was the eldest in the family and took full responsability. Shahin tried to work in several industries. He work for construction, he cleaned streets, but then decided to become a street vendor. He build a cart out with small wheels and loads figs and raspberries in small plastic buckets on it.
He moves along the streets and sells his goods near residential areas, from early morning until late in the evening, trying to earn as much as he can. He collects the fruits from his own garden, and also buys from elderly neighbours who do not have the opportunity to sell good themselves.
According to Shahin, he has more or less enough income to make a living. "I also earn money by selling fish products brought by my relatives" he adds. Thankfully, Shahin says he has not suffered violence or destruction of his products by authorities. "There are no problems, we live peacefully. Sometimes, they ask us to change the location and we agree with them".
The pandemic affected Shahin, as it did many other vendors. But now that there is no lockdown, he his confident he can sell his products, especially during the summer when more people buy them. However, he is worried about COVID-19. If the number of people infected by the virus rises again and the government decides to take hard measures and announce lockdowns, he will not be able to trade.
Shahin is not married, but is responsbile for his family. He wants to save money in case of another quarantine. "I helped my brothers and sisters grow up and build their own family" he says.
As our conversation drew to an end, we wished Shahin good luck with his life path.
The following photos and article were composed by our Youth Reporter on Ground Nancy Likiripa of our affiliate ZCIEA in Zimbabwe and are part of our campaign to celebrate International Day of Street Vendors 2021.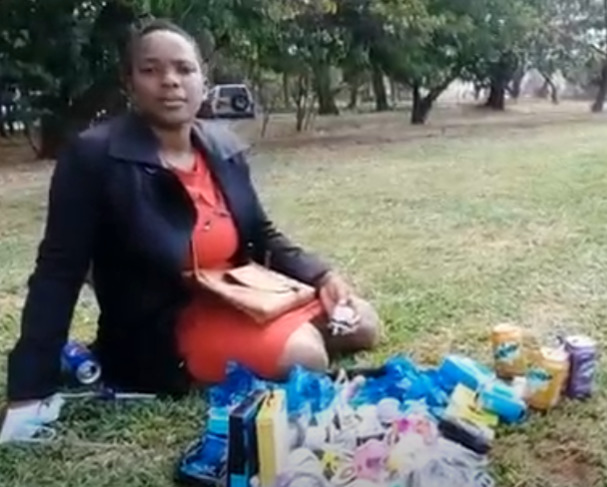 "Everyone wishes to have decent work and a formalized business here in Zimbabwe, though our country's situation is not permitting". This was Nokuthula Gombera's first statement when I saw her. She is a 23 year old youth member of the Zimbabwe Chamber of Informal Economy Associations, and she is motivated to work and be engaged in entrepreneurship. Nokuthula usually works in Bindura Mashonaland Central.
When I met her, she was selling a few car chargers, cables, earphones and power banks on her usual place, though she seemed very disturbed and disappointed. At first, I even felt like postponing the interview due to the look on her face, but she insisted on having it and she poured out her heart and said she wanted the world to see how disappointed she was.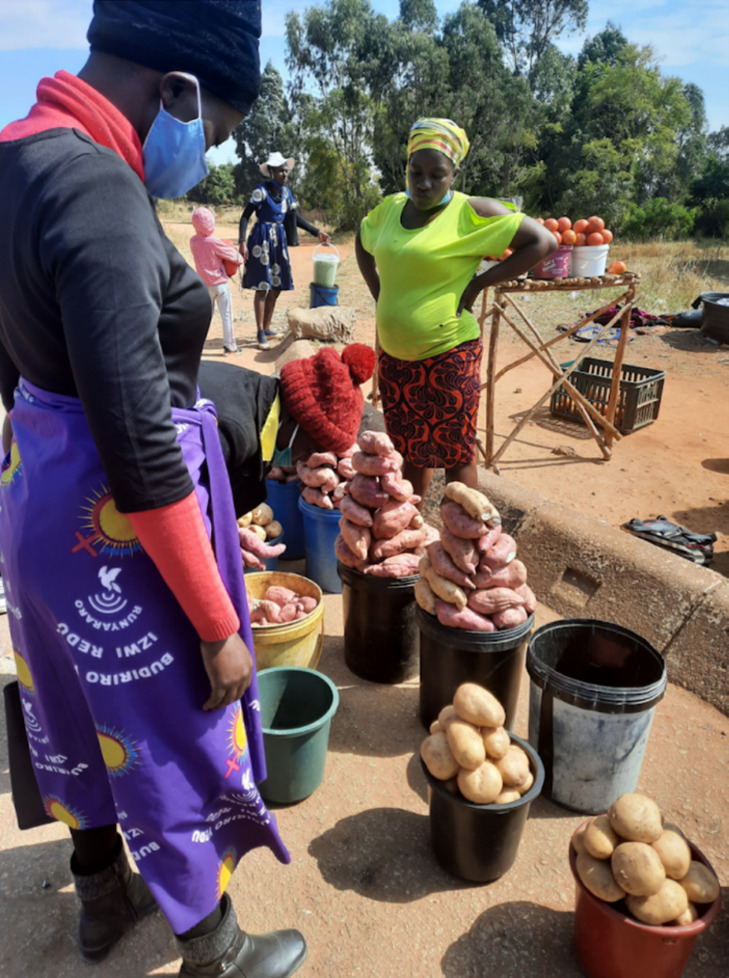 "I have always been a street vendor since 2008, and I am surviving through it" said Nokuthula. She praised ZCIEA for empowering her to become independent and realistic. "I am still hoping for good days to come, where everyone can have access to a better market place with good services".
The following photos and article were composed by our Youth Reporter on Ground Djenabou Sow of our affiliate CNTG in Guinea Conakry and are part of our campaign to celebrate International Day of Street Vendors 2021.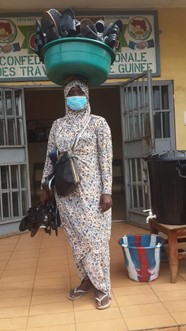 Aissata Sylla is street vendor of shoes in the five municipalities of the capital Conakry. I met this young lady in her twenties, who lives with her family, on August 12, 2021.  I met her in downtown Kaloum and she confided her enthusiasm and her journeys linked to her activity. She also mentioned the impact caused by COVID-19 and the increase in the price of fuel at the pump by the Guinean authorities. She declares to practice this activity to provide for her parents' needs. Read on…..
Djenabou: Good morning! You are street vendor, why do you practice this activity and since when?
Aissata Sylla: I practice this activity, because I have no other choice. I didn't have any other work than that. That's why I'm a street vendor for the moment. Because I have my parents to feed. They only depend on me. They are in their old age. So, I started reselling shoes on the street for a few years now. I don't really remember the date, but I know it's been a long time.
D: What are the difficulties you encounter in sourcing and selling your merchandise?
A: Sometimes the prices vary. We are used to paying a pair of shoes for 20,000 GNF at the store to sell sometimes for 25,000 GNF, but at the time, it is not always the case. At any time, prices go up. So right now, we have to buy and sell a little more. But with our customers who are used to paying the low price, when they are told that the prices have gone up, they will not understand. And when they are told that now the price is 25,000 GNF, they will tell us that it is too expensive. And you have to reduce the price a little for it to work because of what it is in what we gain. To make a profit right now is very difficult. It is by walking that we seek our goods and our customers. So in the morning, when I go to the shops to look for a model of a pair of shoes, I look until I have what I am looking for.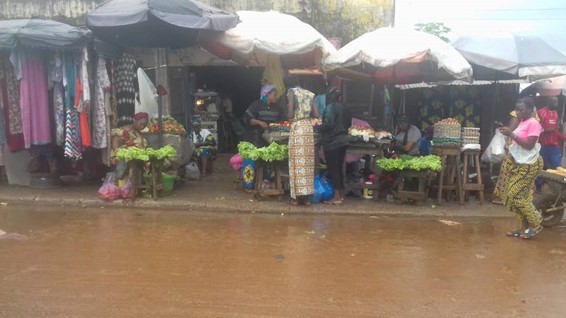 D: What are the risks associated with your work?
A: If we have the merchandise on our heads, as soon as we cross the street someone calls us. We have to cross first before answering the person to prevent a vehicle from hitting us. So after crossing we go back again to answer the person who called us. It is very difficult to go back and forth with our goods in our head. But we have no choice, because that's how we make a living. If the person wants to buy, we sell it, otherwise we cross again to continue our journey. Because there are also people who ask only but don't buy.
D: Since 2020, the world has been affected by the Covid-19 pandemic. What are the impacts on your income?
A: Before the coronavirus, you could sell 20 pairs of shoes a day, but right now you can only sell 5-10 pairs. In any case, it does not exceed 15 pairs per day. It's really not easy. Today I bought 10 pairs when I was leaving home. And yet I don't even know, if I could sell 3 or 5 pairs, it is so complicated. Currently life is very hard. Because there is no market at all.
D: As of August 3, 2021, the price of fuel at the pump drops from 9,000 to 11,000 GNF. Has this increase impacted your business activity?
A: Yes, yes ! Because the transport that I am used to paying is already increasing. From my home (Sonfonia upper suburb of Conakry) to town (in Kaloum), I paid 8,000 GNF one way and back. But today, I paid 16,000 round trips. Which means that the section has doubled. And I'm paying double of what I'm used to paying.
D: What is your message to the authorities?
A: What I can say and ask the union is to help us so that the transport price returns to normal at 1500 GNF. The rest we can manage.
The following photos and article were composed by our Youth Reporter on the Ground Uthman Kaisi of our affiliate MUFIS in Malawi and are part of our campaign to celebrate International Day of Street Vendors 2021.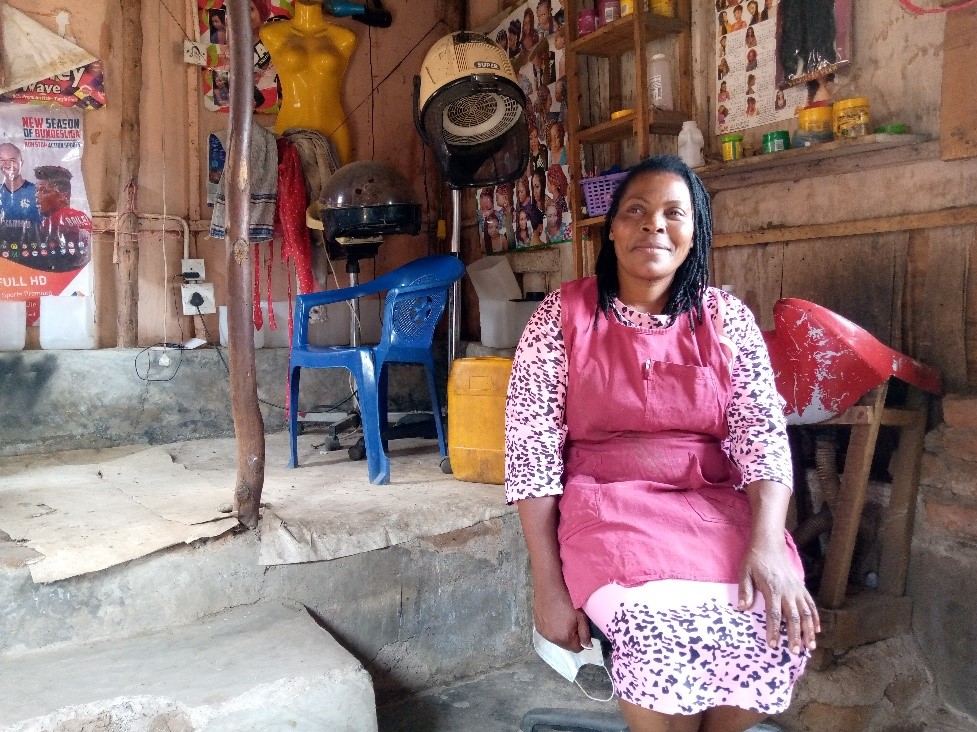 Street vending is prohibited by the authorities in all the cities of Malawi. Every vendor who is operating his or her business besides the streets in every street of the city is supposed to have an eagle eye, knowing that everything can happen at any time. For this reason, it is very hard for a small scale business to grow. The businesses eventually end up going down.
But this is contrary to the experience of Eunice Nankhwema. "I have been doing business here for 12 years now". Eunice is an energetic, courageous and talented lady who was once in the streets of Blantyre during the first years of her business. To avoid being chased in the streets as she worked, she found a place inside Blantyre market and opened a salon and cosmetics shop.
Due to the place she found in the market and the type of business she was doing, it was very hard to attract customers. She experienced this challenge a while, which made her find an alternative for the business. Using the talent she learned in as a teenager from her mother, she started making plastic flowers. "I make wedding flowers, graduation flowers, flowers for welcoming the visitors and wreath", she said.
This alternative made a great change to her work and the business started growing. As of now, she owns three shops of which two of them are for selling flowers and the other one for the salon and cosmetics. Despite not being able to attract customers at first, the other products which also started being sold in the salon began to invite more customers to her shop and admire other services which are also offered at the place.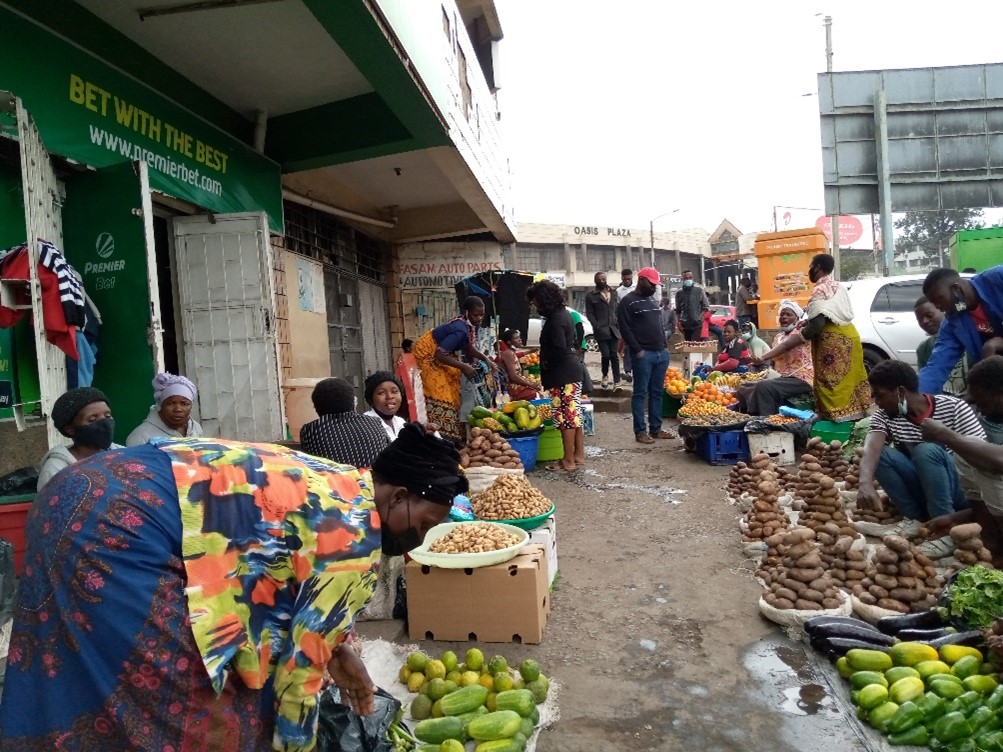 As the world is struggling with the COVID-19 pandemic, this is also the hardest time to Eunice and her business. She said that during this time she can be at the salon for a week without receiving even a single customer.
Despite the harsh situation, she always follows the pandemic measures in her operations. For example, she has hand sanitizer, a bucket for washing hands and she encourages everyone who is entering her business place to wear a face mask. In addition to that, she accepts a limited number of customers to help fight the spread of the virus so they can eventually resume work as normal. "I only allow a maximum of 3 customers in my shop so that we may observe social distance", said Eunice.
She added: "I'm also requesting the government and companies to try as much as possible to employ people because if they employ people we, business people, will also have our chance to make more money on our respective businesses".
In her remarks, Eunice urged her fellow business men and women to stay focused on their business no matter what circumstances. She further encouraged people who discouraged due to the pandemic that they should take this time to push their products so they reach another level.
The following photos and article were composed by our Youth Reporter on the Ground Edna Sibanda of our affiliate SAITA in South Africa and are part of our campaign to celebrate International Day of Street Vendors 2021.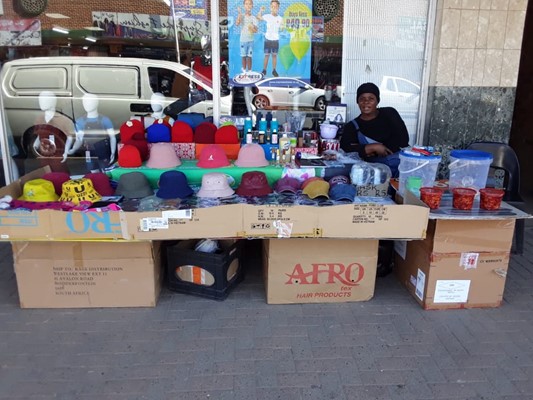 Juliet Thandeka Sibanda, a driven and passionate woman who has been an informal trader for more than 31 years shares what motivated her to join the informal society and what kept her going throughout the years. "I have always been business-minded and driven, my journey began when I was 14 years old"
She continues to share that she had to grow up a little early so she can help fend for her family after the passing of her father, which left them with a lot of financial burdens. As a result of this, Juliet was never able to finish school and being a street vendor became the only way for her to survive.
As a street vendor, she has been faced with a lot of challenges over the years. The biggest challenge has been the uncertainty and insecurity of the informal community. They have had to fight for the municipality to let them keep working at their stalls for a very long time, sometimes they would go for days without any work because of this.
Another challenge she has had to face has been keeping up with the ever-growing competition in the informal community. The rise of unemployment in the country has led to overwhelming numbers of informal traders and this has made it harder for the traders to profit from this.
"When I started working as a vendor, it was mainly for survival but as the years progressed it helped me reach my dreams. I have been able to put my kids through school and build myself a house". She continued to explain how she learned financial management and some business management as well, which has been helpful in keeping her small business running. She has hopes of growing her business and making sure it remains stable.
Even after the many challenges, she faced as a street vendor, nothing could have prepared her for the challenges that would follow the pandemic. During the strict lockdown, street vendors were not allowed to work and this caused a strain on her finances and she struggled to put food on the table. "I knew I had to come up with another plan before I ran out of resources. I started selling face makes and sanitizers from home which gave me a boost financially". She continued to explain how you needed to shift with the times as an informal trader and how you need to keep trying to find new ideas to keep you going.
"The uncertainty of the informal society can be very stressful at times". She also explains that it would be so much easier if the government would assist them with some funding to grow their businesses a little more. It would be easier for them to sustain themselves and their businesses.
Street vendors and other people in the informal community play a big role in the economy which is why investing in them would be great to boost the country's GDP as a whole.
The following photos and article were composed by our Youth Reporter on the Ground Dorcas Rachetée Ishimwe of our affiliate STRIECI in Rwanda and are part of our campaign to celebrate International Day of Street Vendors 2021.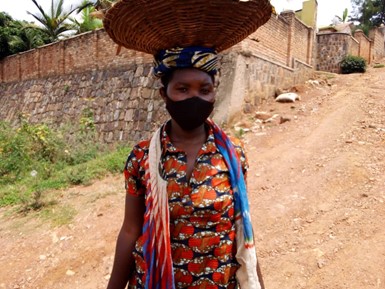 NAMBAJIMANA is a 28 years old street vendor. She has been doing this business for three years. She never had a chance of working in the market due to financial issues. She came in Kigali from her hometown, where she used to do farming activities with her family members. Life in the village was difficult. The low standard of living and the fact that she wasn't able to go to school made it hard for her to find a job.
In all those three years of selling mostly avocadoes and fruits, Nambajimana has had to face different challenges. What she was doing was considered almost illegal. She had different encounters with the authorities, the worst one being when she had to spend a week in jail.
Luckily enough, she was able to go out but she never went to trade in the city again out of fear. She started doing door to door trading in communities which were less controlled by the authorities.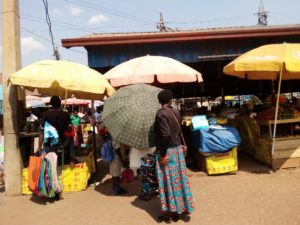 Nambajimana said: "I couldn't go back. I was scared and worried for my baby. Going to all those dangerous places with my son where I had to run almost all day was not an option". Despite all the hardship she faced in her line of work, she was never discouraged. She managed to fend for her small family and joined various saving programs. Nambajimana also moved her only child from the village and enrolled him in a better school here in the city.
She is looking for any way possible she can get enough capital and start working in the market or open her own shop, especially for fruits and vegetables. She is also open to learning new skills, such as tailoring or hair styling.
"I really want to work formally, and be able to save enough for my son's future. And by doing that I will need help from the government or other sponsors. I can't do it alone with all bills that I pay regularly" she said.
There are some government programs and projects that work in favor of people like Nambajimana, and there is also STRIECI Rwanda which does advocacy for the same people. This means there is hope that her wish and dream, the same like other street vendors', might be come true as soon as possible.