The following photos and article were composed by our Youth Reporter on Ground Djenabou Sow of our affiliate CNTG in Guinea Conakry and are part of our campaign to celebrate International Day of Street Vendors 2021.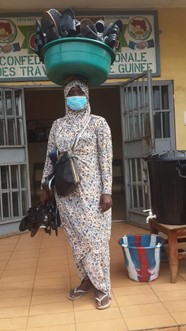 Aissata Sylla is street vendor of shoes in the five municipalities of the capital Conakry. I met this young lady in her twenties, who lives with her family, on August 12, 2021.  I met her in downtown Kaloum and she confided her enthusiasm and her journeys linked to her activity. She also mentioned the impact caused by COVID-19 and the increase in the price of fuel at the pump by the Guinean authorities. She declares to practice this activity to provide for her parents' needs. Read on…..
Djenabou: Good morning! You are street vendor, why do you practice this activity and since when?
Aissata Sylla: I practice this activity, because I have no other choice. I didn't have any other work than that. That's why I'm a street vendor for the moment. Because I have my parents to feed. They only depend on me. They are in their old age. So, I started reselling shoes on the street for a few years now. I don't really remember the date, but I know it's been a long time.
D: What are the difficulties you encounter in sourcing and selling your merchandise?
A: Sometimes the prices vary. We are used to paying a pair of shoes for 20,000 GNF at the store to sell sometimes for 25,000 GNF, but at the time, it is not always the case. At any time, prices go up. So right now, we have to buy and sell a little more. But with our customers who are used to paying the low price, when they are told that the prices have gone up, they will not understand. And when they are told that now the price is 25,000 GNF, they will tell us that it is too expensive. And you have to reduce the price a little for it to work because of what it is in what we gain. To make a profit right now is very difficult. It is by walking that we seek our goods and our customers. So in the morning, when I go to the shops to look for a model of a pair of shoes, I look until I have what I am looking for.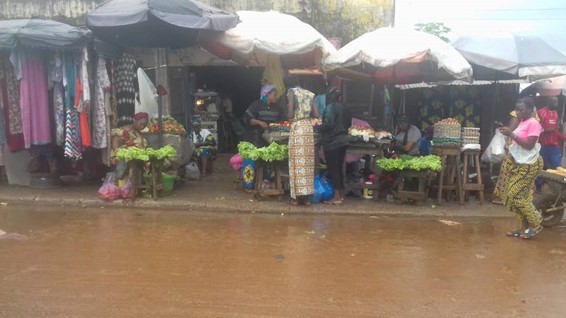 D: What are the risks associated with your work?
A: If we have the merchandise on our heads, as soon as we cross the street someone calls us. We have to cross first before answering the person to prevent a vehicle from hitting us. So after crossing we go back again to answer the person who called us. It is very difficult to go back and forth with our goods in our head. But we have no choice, because that's how we make a living. If the person wants to buy, we sell it, otherwise we cross again to continue our journey. Because there are also people who ask only but don't buy.
D: Since 2020, the world has been affected by the Covid-19 pandemic. What are the impacts on your income?
A: Before the coronavirus, you could sell 20 pairs of shoes a day, but right now you can only sell 5-10 pairs. In any case, it does not exceed 15 pairs per day. It's really not easy. Today I bought 10 pairs when I was leaving home. And yet I don't even know, if I could sell 3 or 5 pairs, it is so complicated. Currently life is very hard. Because there is no market at all.
D: As of August 3, 2021, the price of fuel at the pump drops from 9,000 to 11,000 GNF. Has this increase impacted your business activity?
A: Yes, yes ! Because the transport that I am used to paying is already increasing. From my home (Sonfonia upper suburb of Conakry) to town (in Kaloum), I paid 8,000 GNF one way and back. But today, I paid 16,000 round trips. Which means that the section has doubled. And I'm paying double of what I'm used to paying.
D: What is your message to the authorities?
A: What I can say and ask the union is to help us so that the transport price returns to normal at 1500 GNF. The rest we can manage.